JK 2012: Scotland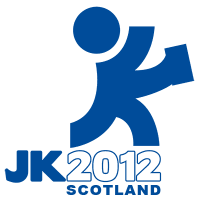 A Jakey with a can of lager, welcome to Scotland.
This Easter weekend almost 2,400 competitors from across the UK and Europe will descend on Scotland, Livingston and Perthshire to be more precise, for the Jan Kjellström International Festival of Orienteering 2012. For the first time this season almost all of the UK's top orienteers will be in attendance, so you can expect a tight competition across the board in the elite classes, with these races part of the selection for Junior and University World Championships this summer as well as the European Championships in May.
After missing the British Sprint Championships in favour of the Mediterranean Orienteering Championships, the top two seeds Murray Strain and Scott Fraser will return looking for JK victory on the (almost) home soil of Livingston, which will offer a real mixture of intricate housing estate and wooded parkland.
Off early starts, expect times to beat from Ewan McCarthy, Duncan Coombs (who was 4th at the British Sprints) and Romualdas Stupelis, as well as British Champion Chris Smithard who starts half an hour before the top seeds, and with all the top runners apart from Graham Gristwood in attendance you can expect a really tight competition to start the long weekend.
In the women's race it is hard to see past World Champion Linnea Gustaffson, although she was disqualified at the British Championships in York. Her strongest challengers are likely to come from fellow Edinburgh residents, particularly those who made up the podium in York, British Champion Cat Taylor (also starting well before the rest) along with Helen Bridle and top seed Claire Ward should all post fast times. Tessa Hill and Sarah Rollins were also recently sharpening their sprint form in Italy, so you can expect them to be involved in the podium here too.
Dunalastair predominantly offers a tough open hillside, along with a mixture of commercial and mature woodland, with a variety in runability across the area. With just 1 minute start intervals for the Elites, you can expect some packs to form, which should lead to some exciting head to head racing out on the course and some tight times at the finish. For everyone else competing on full length courses, expect long, rough and tough races.
As with the sprint, you can expect strong marker times to be set early on by Duncan Coombs and Ewan McCarthy, but the terrain and the packs are likely to get quicker as the day goes on. You can expect reigning JK Champion Hector Haines to be looking to make amends for his British Middle champs disaster, where he picked up the wrong map and lost 5 minutes and sight of a podium place in the process, while British Middle Champion Oli Johnson will be keen to cement that title after the absence of top seeds Scott Fraser and Murray Strain in Yorkshire.
Last year the women's race was incredibly tight, just 3 seconds separating victor Sarah Rollins from Hollie Orr with JK Champion Tessa Hill a further 15 seconds back. Given the tougher terrain, it'll be unlikely to be that close this year, but expect these three to all be in contention along with British Middle Distance Champion and top seed Claire Ward, while it'll be interesting to see how British Middle Distance Winner Linnea Gustaffson and her Swedish compatriot Beata Falk cope with the tough Scottish terrain.
The day which the weekend titles really come down to, with the finishing order in the middle shaping the start lists, and the leader chasing down those in front over a classic distance course.
Craig a'Barns is also a classic Scottish forest, and well known in the UK as the first professionally mapped area in Scotland forty years ago for the Scottish Championships in 1962. Expect plentiful rock and contour detail with varying runability and visibility throughout the forest. There are usually some tough long route choice legs across or around the ridges, and some physical climbs to really test competitors.
Claire Ward and Hector Haines were the strongest in last year's JK classic, but the open terrain in Ireland will be in stark contrast to the test set here in Scotland. As current King and Queen of the Forest, Doug Tullie and Tessa Hill will also be out to show their strength in this terrain, while Scott Fraser will be out to claim his first JK title on home terrain with Oli Johnson looking for his third JK title.
The first race in the new extended UK Relay League for 2012 will have all the top clubs are in attendence, along with a few strong foreign teams to add some extra interest, in the men's race in particular Lillomarka will prove a tough test to the top British teams. Newtyle Hill will present a final physical test for competitors, the clue being 'Hill' in the name, open hillside along with a mix of deciduous pine and conifer woodland with lots of rock and contour detail. With good visibility, it'll make for exciting head to head racing both for competitors and those watching from the sidelines.
This year Nottingham and Octavian Droobers look stronger than previously years, Ant Squire joining the former from last year's champions and Peter Hodkinson in fine form, but with Scott Fraser replacing Ant it would be hard to look past Interlopers to retain that title. Expect South Yorkshire, Edinburgh University and ShUOC to be in the mix as usual.
In the women's race last year's champions the British Army aren't defending their title, and it is hard to pick a clear favourite but expect a couple of Edinburgh University teams to be up there along with last year's bronze medalists Edinburgh Southern who have an unchanged team, while the Lake District could challenge Edinburgh dominance with reigning British Champions West Cumberland and South Ribble both fielding strong teams. Expect more teams in the mix from South Yorkshire, ShUOC and OD.
Away from the races
As ever, there is a wide array of fun activities taking place away from the races, like the BOF AGM on Friday. There is training available near Livingston, Trail O on Days 2 & 3 and a Ceilidh on Saturday for those with excess energy to burn. There is also the more sedate wine and whisky tasting available, or you could get yourself a jigsaw. If only there was an ale tent at the races again this year, we'd have seen you there!
Full information is available from the JK 2012 website with start times available on SI Entries.
Nopesport relies on user submitted articles. Got an inside scoop? An event review? Please submit it to us.

Nope News
Orienteering headlines from around the web:
World of O
Nopesport is supported by these advertisements