British Orienteering Championships 2011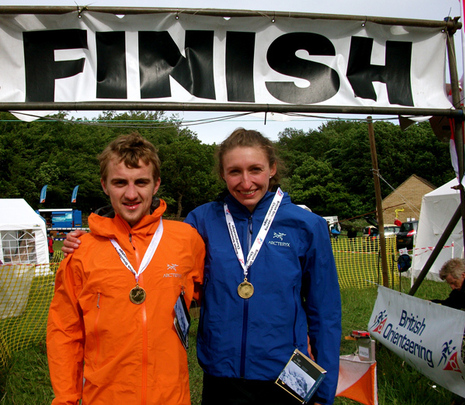 Doug Tullie and Tessa Hill, British Orienteering Champions
Wharncliffe, Greno and Wheata on the outskirts of Sheffield offered a varied and challenging test as host to the British Championships individual. Planned by Oli and Jenny Johnson, both elite runners and British champions in recent years, they knew how to get the best out of the area, while South Yorkshire Orienteers provided fantastic organisation. The terrain varied from runnable mature plantation and open woodland to a scarp slope of rock features, complex mining detail and a plethora of mountain biking tracks.
As at the JK, there wasn't much to separate the Women's elite, while in the Men's elite it was a strong run by one of the younger elites which proved too much to topple for the later starters. Unfortunately for the middle of the field in the men's elite the day's racing was spoilt by an early control going walkabout, affecting a number of runners before being found. While this obviously spoilt the runs of those disrupted in the forest, as well as those those waiting to start, a worthy winner won out in the end.
On the 14.3km men's course the early time of 98:51 set by James Tullie took some time to be challenged, and when it was challenged it was the Dan "old man" Marston who broke the 90 minute barrier with a time of 88:31 which stood up to all but four of the latter starters. Oleg Chepelin was the next to go quicker with a time of 88 minutes, but as with the British Middles he was once again left disappointed as a strong run was spoilt by a miss of over a minute near the end.
Through the radio controls it was Edinburgh University's Doug Tullie who was setting the pace of the day. Having caught his three minute man Ralph Street early on in the course they were pushing each other on throughout the rest of the race, winning half of the remaining legs on the course between them. While Ralph crossed the line ahead, it was Doug's time of 84:31 which saw him with one foot on the podium, and he didn't have too long to wait to see which place he would take.
Only Murray Strain and reigning champion Matt Crane were left in the forest and able to challenge his time, and these two were also running together. Like Tullie and Street, Crane had caught Strain early on and they were racing together, but not quite to the same success of the two younger runners. A number of fast splits followed by the fastest time for the long leg from Strain had put Crane in the lead at the far end of the course, but mistakes in the scarp section here left him 90 seconds down which was a lot to make up over the remaining legs towards the finish.
In the end Crane had to settle for second, almost 2½ minutes down in a time of 86:57, just under 30 seconds clear of Street in 3rd. Oleg Chepelin in 4th was left ruing his mistake, as without it he would have claimed 2nd behind his Edinburgh teammate. 5th went to Dan Marston's impressive time, while Murray Strain finished up in 6th.
The women's course was far closer, but once again it was an early time from an old head which set the mark which tested the later starters. Helen Winskill's time of 78:34 led for half an hour before British Middle Champion Claire Ward went 7 minutes quicker with a time of 71:38. Claire had been leading throughout the radio controls, and despite a miss near the control, posted a fantastic time a minute quicker than anyone else for the long leg, so was obviously running strongly. However, a massive miss of over 4 minutes on the third last control meant the lead she had build over the course might be under threat from the later starters.
Under threat it was, as soon enough Tessa Hill stormed up the run in (posting one of the quickest run in times of the day, male or female) to finish in a time of 71:06. While it wasn't a clean run, based on times from the radio controls there was only one person out in the forest who could get close to it and that was South Yorkshire's Rachael Elder. Despite running with an injury for most of the course, Rachael's time at the second last control would have won had it not been for the strong running by Tessa over the final stages, pulling back over 40 seconds to win by just 13 seconds with Rachael's time of 71:19 placing her second.
Just off the podium, Heather Gardner secured her best ever senior result in 4th place in a time of 74:16, just five seconds clear of Grace Crane in 5th with Laura Daniel in 6th a further 30 seconds down.
In the Junior Elite classes there was a similarly exciting level of competition taking place, with Florence Haines of Aire going one better than at the JK, winning W18 with a clear 3 minute victory over Zoe Harding of South Ribble, with JK Champion Charlotte Watson a further 9 seconds adrift in third. Florence's time of 58:45 was also the quickest time on the course, with Julia Blomquist winning W20E in 59:15, with the Edinburgh students Alice Leake and Jessica Orr ending up behind the other two girls who made up the W18 podium.
There was no such shocks from the youngsters on the M18 and 20 elite courses. Alan Cherry a clear winner in a time of 67:22 for the 10.3km course, going one better than his 2nd place on each day of the JK. He caught sight of his 3 minute man Jamie Stevenson on the way to the spectator control, but Stevenson remained just ahead over the second half of the course to take second place with Peter Hodkinson a further 2 minutes down.
Despite a 3 minute miss early on where he caught his 3 minute man Chris Young, Jonathan Crickmore benefitted from the head to head racing. Towards the end the pair caught 9 minute man William Gardner and Crickmore raced to a clear 4 minute win over JK Champion Peter Bray, who had held a 37 second lead after the long leg, before a series of misses left him in second place. Chris Young taking 3rd ahead of Gardner.
Elsewhere on the Junior courses Alistair Chapman of Maroc won M10a in a time of 25:25, a minute and a half clear of Joeseph Hudd of Bristol. The girls on W10a found the same course a far more testing prospect, with Sarah Duckworth of Derwent Valley winning in 40:16. In W12a Fiona Bunn of Thames Valley won convincingly in a time of 33:30, adding to her JK title, and almost 4 minutes clear of Abigail Mason of Maroc.
Harrison McCartney of OD won M14a, while Louise Adams was one of many South Yorkshire victors on home turf in W14a, almost five minutes clear, with teammate Aidan Smith added to his JK title by taking M16a by over 2 minutes from Dane Blomquist. Sarah Jones of Barro took the win in W16a, over 3 minutes clear of Rhona McMillan of Maroc with JK Champion Megan Carter-Davies of Powys a further 6 seconds back.
In the senior classes Forth Valley's Roger Goddard convincingly won M35L having missed out at the JK to foreign opposition. Local legend Bill Edwards was also a clear winner of M40L, improving from his second place at the JK. The competitive M45L class was won by just 45 seconds by Maroc's Jon Musgrave from the South Yorkshire's JK winner Charlie Adams, while Tim Tett (somewhat controversially) took M50L title by a minute from Martin Bagness.
W35L convincingly went to JK winner Helen Pearce of Happy Herts, with W40L going to Sarah Dunn of Maroc just under a minute ahead of JK champion Jenny Peel. Hazel Dean of Forth Valley won W45L by almost 5 minutes, while W50L was won by over 7 minutes by Alice Bedwell of Bristol.
As well as the British Championships trophies, elite winners received jackets from sponsors Arc'teryx, while other class winners went home with goodies from Smartwool.
Prizes were presented by renowned World Championship winning mountain biker Steve Peat, whose training backyard played host to the event. He was particularly impressed by the age range of the competition, saying on twitter: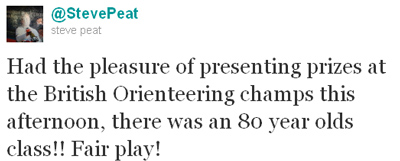 For all the results and splits, as well as Routegadget, visit the BOC 2011 website.
You can discuss the event in the forums, including a discussion on the situation of voiding (or not) the elite race.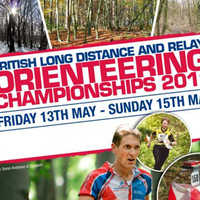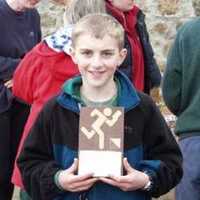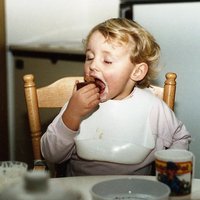 Nopesport relies on user submitted articles. Got an inside scoop? An event review? Please submit it to us.

Nope News
Orienteering headlines from around the web:
World of O
Nopesport is supported by these advertisements