2011 early season preview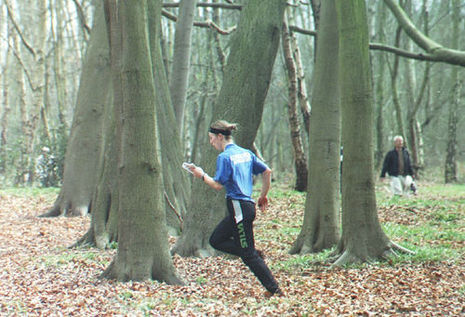 With the season kicking off in earnest this month, with the British Night Championships tomorrow and the first of the area championship events, here are a few of the big events to look out for in the early part of the year.
05/02/2011 - British Night Championships, Bentley Woods
This weekend the new, longer, UK Cup season begins with the British Night Championships. Taking place at Bentley Woods, an undulating forest with a mix of runnable coniferous plantation and mature oak woodland, the fast running across vague slopes to small point features is bound to present tricky navigation problems at night.
The British Night Champs are never the most popular event in the calendar, so for UK Cup racers there is good points to claim with just over 20 competitors in men's elite, and less in women's elite. For those in the UK Masters Cup however, there is a much greater level of competition. See the British Night Orienteering Championships website for information and results.
20/02/2011 - Midland Championships, Sheringham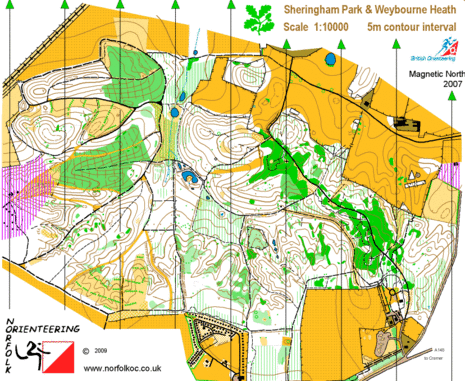 The Midlands Championships at Sherringham is part of the UK Masters Cup, and will offer highly runnable and steeply contoured parkland and coniferous woodland - the slopes not what you would expect from Norfolk!
Full details on the Norfolk Orienteering Club website.
05-06/03/2011 - Welsh Championships, Gower
The start of March sees the Welsh Short Distance Championships followed by the Welsh Orienteering Championships, which is a UK Masters Cup round. Taking place on the Gower peninsula, both days should offer some testing orienteering.
Visit the Swansea Bay Orienteering Club website
for further information.
12-13/03/2011 - JOK Chasing Sprint, Shotover & Southern Championships, Hambleden
Always a popular event, the JOK Chasing Sprint offers fantastic head to head racing and Shotover should provide an excellent venue. Offering a mixture of flat, fast varied forest requiring high-speed navigation coupled with steeper slopes and a complex path network, this event will test concentration and navigation at high speed. Find out more on the JOK Chasing Sprint webpage.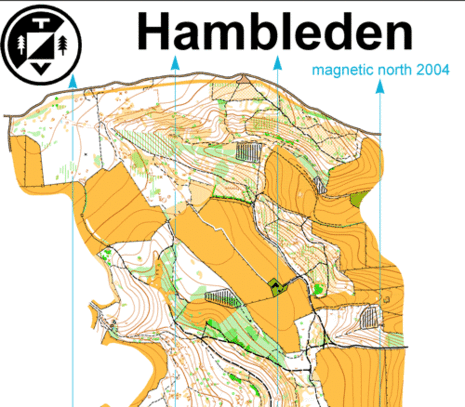 The Southern Champs at Hambleden will be an early season test of speed, strength and stamina and is a counter for the Future Champions Cup, UK Cup and Masters Cup. The elite men will be facing a 17km course with over 700m climb, while the women face 11km and 400m climb, so the event will be a good indicator of how winter training has gone for many. Previously used for the JK and National Events, Hambledon offers undulating woodland, a mixture of mature beech wood, thinned beech wood and coniferous plantation in various stages of maturity, and the elites especially can expect to visit the entire area!
Find out more on the TVOC website.
27/03/2011 - Northern Championships,
Also an FCC and Masters Cup event, the Northern Championships offer racing over open moorland and rough pasture with some areas of intricate contour detail, providing good preparation for the JK in Northern Ireland the following month.
Visit the Northern Championships website for more information.
02/04/2011 - Nopesport Urban League race 2, Erskine - Glasgow
Erskine hosted one of last year's trickiest sprint races for the World Championships selection, and this year we are returning to an expanded area to race as part of the Nopesport Urban League.
Visit the Clydeside Orienteers website for more information.
09-10/04/2011 - British Sprint Championships, University of Sussex & British Middle Championships, Worthlodge Forest

The Sprint championships is being held on a university campus, so expect a combination of complex buildings, steps, underpasses, paths and landscaped grounds (and a bar!). Qualifying rounds for all in the morning, while the finals in the afternoon take place after the elite finals. The prospect of a sunny weekend near Brighton coupled with some quality sprint orienteering makes this one look like an attractive weekend away
The following day sees the Middle distance championships at Worth Lodge near Crawley, which will offer fast running in a very mixed woodland and a variety of contour features. Find out about both of these at the British Sprint and Middle Championships website.
---
That's it for now, but we'll follow up with a preview of Easter and the JK onwards to the summer in early March.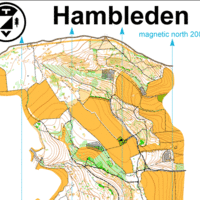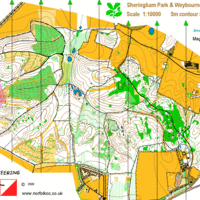 Nopesport relies on user submitted articles. Got an inside scoop? An event review? Please submit it to us.

Nope News
Orienteering headlines from around the web:
World of O
Nopesport is supported by these advertisements