Silver for Kris Jones in JWOC sprint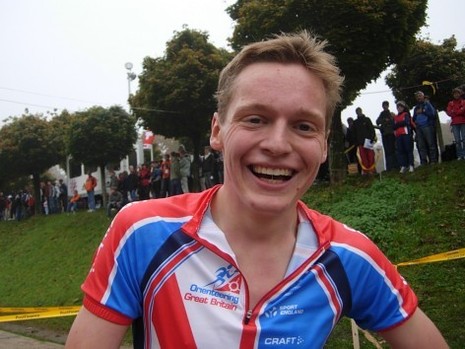 Kris Jones after his EYOC Sprint Gold
Having previously proven his sprint pedigree with Gold at the European Youth Orienteering Championships in 2008, Kristian Jones took his orienteering to the next level today to take Silver at the Junior World Orienteering Championships - Britain's best ever official JWOC result! (although Scott Fraser won the sprint in 2005, when the sprint wasn't part of the official JWOC programme).
The sprint was held on a university campus on the eastern outskirts of Aalborg with predominantly urban terrain, with some residential buildings while the campus mainly consists of similar looking buildings in consistant patterns, meaning that keeping map contact was crucial. Danish runners proved unbeatable on home turf, with clear wins in both the men's and women's races from Rasmus Thrane Hansen and Ida Bobach respectively.
With Kris in second place, just 19 seconds down on the winner, the rest of the Brits also put in a strong showing. Alasdair McLeod from an early start position posted a good time, facing an agonising wait as later runners came in before finishing in 15th, just ahead of Ralph Street in 18th who was a minute down on the winner. Rebecca Harding was the top British woman, in 28th place, just under 2 minutes down on the winner.
Men - 2.7 km with 28 controls:
1 Rasmus Thrane Hansen, Denmark, 13:04
2 Kristian Jones, Great Britain, 13:23
3 Vegard Danielsen, Norway, 13:25

15 Alasdair Mcleod, Great Britain, 13:59
18 Ralph Street, Great Britain, 14:04
34 Peter Hodkinson, Great Britain, 14:33
55 Jamie Stevenson, Great Britain, 14:57
95 MatthewHalliday, Great Britain, 15:56
Women - 2.3 km with 19 controls:
1) Ida Bobach, Denmark, 13:36
2) Hanna Wisniewska, Poland, 14:00
3) Monika Gajda, Poland, 14:03

28) Rebecca Harding, Great Britain, 15:27
49) Hazel Wright, Great Britain, 16:29
51) Mairead Rocke, Great Britain, 16:34
67) Julia Blomquist, Great Britain, 17:20
69) Charlotte Watson, Great Britain, 17:24
DSQ Alice Butt, Great Britain
Full results posted on the JWOC website, while you can join in the discussion on our forums.
Nopesport relies on user submitted articles. Got an inside scoop? An event review? Please submit it to us.

Nope News
Orienteering headlines from around the web:
World of O
Nopesport is supported by these advertisements