Orienteering digital offspring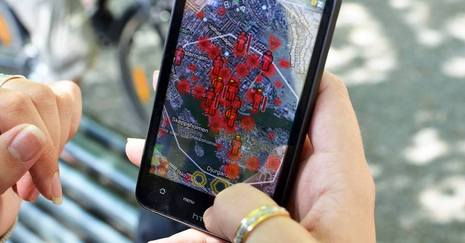 Orienteering digital offspring Turf - Outdoor addiction, is a phenomenon that has been around in scandinavia for a few years. It is like a mix between Orienteering, Nike grid and geocaching. You download an app in order to see a map with "zones" and other players walking around live. The game is then to compete for the zones by travelling to them(using the GPS) and automatically claim ownership by standing within their boundaries. Doing that will give you points and make you climb the different top lists and gain medals. Big companies like Google and Nike has already grabbed their fair share of this new market of Augmented Reality with games like Ingress. But what differs Turf from the competition is the more sport-like gameplay and awareness of other players.
This Sunday a new monthly round of Turf will start, give it a try to get some everyday adrenaline!
Some of the benefits experienced by current uk participants, is that it can add incentive to those of us that live in cities that have to train by slogging around the streets and aren't motivated by the pure love of running and need something to get us out of the door. It also gives an added competitive angle to getting around town. Webpage Turfgame.com (The Turf developers has exclusively promised us to add more zones where there are too few if they just see a rise in activity.)
Orienteering headlines from around the web:
Nopesport is supported by these advertisements