Salisbury City Race 2013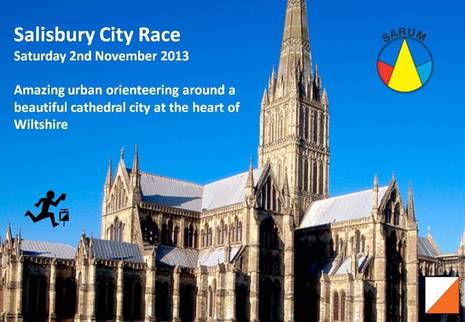 Salisbury City Race 2013
The first ever orienteering competition in the city will take place on Saturday 2nd November 2013 organised by Sarum orienteering Club. Southampton Orienteering Club will be holding their November Classic on Sunday 3rd November 2013. Both events will form part of the November Classic Weekend.
With a map drawn by Mike Hampton, Sarum has been given permission to locate the start and finish in the Cathedral Close which will provide a fantastic backdrop to the event. The event Centre is located in Bishop Wordsworth's School adjacent to the Close where a full range of facilities, including showers and safe bag drop, will be available to allow competitors to combine their race entry with some sightseeing.
The event is part of the South of England Orienteering Urban League, Nopesport Urban League and is the penultimate event in the UK Orienteering League. The November Classic the following day will be the final UK League race of this series.
The full range of courses will be available: (Men Open (M18-M35), Veteran Men (M40+), Super Veteran Men (M55+), Ultra Veteran Men (M65+), Junior Men (M16-), Young Junior Men (M12-), Women Open (W18-W35), Veteran Women (W40+), Super Veteran Women (W55+),Ultra Veteran Women (W65+), Junior Women (W16-), Young Junior Women (W12-). Junior courses will be confined to the Cathedral Close and Churchill Gardens, a large park a short distance from the cathedral.
In addition to orienteering courses, 5Km and 10Km courses will be provided to encourage runners from the local area to take part. A small number of controls will ensure that competitors complete the distance. Local sports clubs will be encouraged to enter teams of three and compete for a trophy in the Sports Club Challenge. For visiting families, there will also be a map photo trail in the city centre using an extract of the map and photographs of city objects that need to be correctly matched to their locations.
Starts are from 1100-1400 and entries via Fabian4 (www.fabian4.co.uk) preferred. Entry on the day will be possible as maps last. Full details of the event, including the event flyer, are on the www.salisburycityrace.org.uk website. Further details about Sarum, orienteering in general and the 5Km/10Km/Sports Club Challenge entry form are at www.sarumo.org.uk.
Nopesport relies on user submitted articles. Got an inside scoop? An event review? Please submit it to us.

Nope News
Orienteering headlines from around the web:
World of O
Nopesport is supported by these advertisements