JK 2012: Day 4 - Relay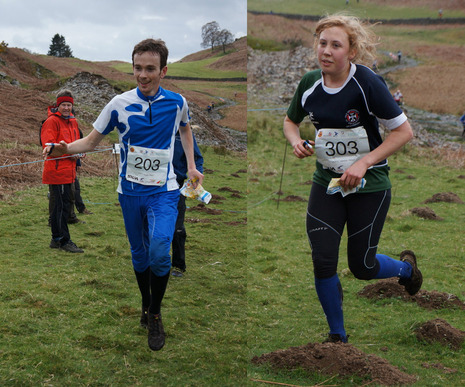 Scott Fraser and Bex Harding comfortably anchor home their teams to victory
Newtyle Hill as expected was a tough physical test, especially after two gruelling days of competition, and the competition at the sharp end was somewhat subdued. After the first legs, very little happened at the top of either the men's or women's races, although there were some interesting tussles throughout the rest of the standings.
Speaking the day before the relay, Murray Strain was saying that it wasn't his job to win the relay on first leg and that getting round with the pack would be the aim, but suggested that it'd be hard not to take advantage should the hills create gaps. This proved to be exactly what happened, with a number of tough climbs on the course, most notably the one to the first control, spreading the field quickly. The gaffling kept things interesting although the orienteering itself proved relatively straightforward for most.
On first leg, Murray Strain changed over to Oleg Chepelin for Interlopers, with almost a minute lead over the chasing Edinburgh University as Doug Tullie sent Mark Nixon out a further minute ahead of ShUOC's team Kelly Candy's Barmy Army, with Dave Schorah giving chase. 30 seconds behind them however it was a bit tighter, with a couple of teams from Lillomarka, another couple of South Yorkshire teams (including a fine run from youngster Aidan Smith in 5th), Harlequins, EUOC and Nottingham all within 20 seconds of each other.
Chepelin opened up another minute gap leaving JK Champion Scott Fraser the task of finishing it off safely, which he did, Interlopers winning by two minutes in a time of 87:26. Mark Nixon held off Dave Schorah on second leg, and while Kris Jones caught Edinburgh University's Hector Haines on the last leg he couldn't find enough to get past him, so had to settle for third place in a time of 90:08. Rich Robinson had pulled Nottingham up from 9th to 4th on the second leg, and opened a 2 minute gap to South Yorkshire, which Pete Hodkinson retained on 3rd leg. Behind them there was a scrap for 5th between the South Yorkshire team, Edinburgh and Sheffield Uni's second teams and Lillomarka as Oli Johnson was caught early on but managed to open up enough of a gap to hold off Lillomarka's Jonas Jueveli on the run in.
A very similar story was to play out in the women's relay, although the first leg was far closer. Just over 20 seconds spread the first five teams, as Cat Taylor led Edinburgh University home five seconds ahead of Mhairi Mackenzie for West Comberland with Lilomarka in 3rd a further 7 seconds adrift, Edinburgh Southern and Sheffield Uni hot on their heels. It was Hollie Orr on second leg who opened up the winning gap, over 90 seconds from Helen Winskill, while Bex Harding on last leg sealed victory and extended their lead by two minutes, giving them a total time of 85:43. West Cumberland's Charlotte Watson saw them safely home in 2nd place, with a time of 89:34 with Claire Ward overhauling the slight lead of Edinburgh Uni's second team early on to open up a five minute gap and give a comfortable third place. Behind the Edinburgh Uni team in 4th, it was great to see INVOC's Ospreys flying high in 5th, ahead of South Yorkshire.
The Men's 120+ was run alongside the men's open relay, and Interlopers were again victorious, thanks mainly to the first leg run of Alan Cherry who was third back overall and first on the 120+ category. Graeme Ackland and Rob Lee doing the rest of the business to see Interlopers finish three minutes clear of the British Army, with Forth Valley in third, the brilliantly named EckO & the Bunnymen in 4th place. FVO claimed revenge over Interlopers, with Edinburgh Southern in third just holding off Thames Valley as Scottish clubs swept the board in the Women's 120+ class.
On women's short, it was a Lake District battle as Barro held off West Cumberland by just over 30 seconds with OD in third. The highly competitive Men's short was won by Sarum, 45 seconds clear of Gramp who overhauled Forth Valley to take second place.
South Ribble came from a long way back to win the veteran men's class, Quentin Harding running a blistering last leg to turn around a four minute deficit and give them a minute lead at the end over the British Army vets. Bristol took the veteran women's class, comfortably 3 minutes clear of Cleveland with Lakeland a further minute back in 3rd.
On the junior classes, Maroc led Konnerud-Kongsberg from the start of the mini relay, and opened up almost a five minute lead, but the Norwegian team only just managed to hold off a strong comeback from Bristol's Cheetahs, who had to settle for 3rd just seven seconds down, while Bristol's second team the Gazzelles finished in 4th ahead of Happy Herts.
Forth Valley won the M/W40- relay from Indre Østfold OK, with Lakeland holding off strong finishes from Halden and Interlopers to take 3rd spot. On W48- Happy Herts withstood a great comeback from Lakeland, Becky Young on last leg losing three minutes early on to the chasing Natalie Beadle, but winning the relay by five seconds on the run in. On M48- Will Rigg running last leg for Lakeland overhauled the South Yorkshire lead, with Interlopers taking third spot.
Full results, along with links to splits and routegadget are available on the SI results website. We'll have more photos later.
Nopesport relies on user submitted articles. Got an inside scoop? An event review? Please submit it to us.

Nope News
Orienteering headlines from around the web:
World of O
Nopesport is supported by these advertisements