JK 2012: Day 3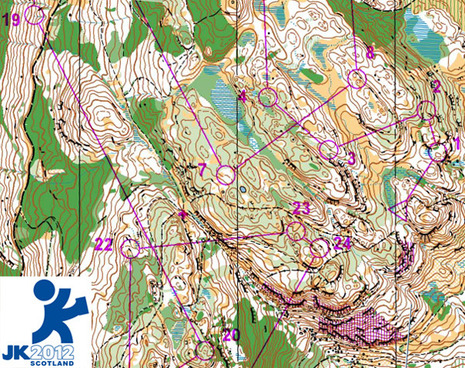 Some of the testing JK 2012 Men's Elite Classic course
For 40 years since first being professionally mapped for the Scottish Championships, Craig a'Barns has offered a fantastic mix of tough hilly forest to challenge competitors physically, with plentiful rock and contour detail to test them mentally. Hosting the second day of JK 2012 this was certainly the case once more, with the physical area made even more so by windblown trees and thinning, although the courses were well planned to avoid this and make great use of the diverse nature of the area.
It was two stunning runs that won the day, with Claire Ward's three minute win enough to give her a narrow 20 second overall victory over Linnea Gustafsson on women's elite, completing the 6.9km course in a time of 60:41. Claire led throughout, catching and passing her three minute woman Mhairi Mackenzie by control 7, by which time Gustafsson had already dropped two minutes on the long leg and another couple of minutes elsewhere. Just past halfway Ward had Helen Palmer in her sights and with these two racing together Ward's lead extended to 4 minutes before a couple of consecutive misses saw Gustafsson claw back a minute, but this wasn't enough to stop the overall title going to Ward.
Helen Palmer finished third on the day with a strong run in a time of 66:59, which was enough to see her move up from 5th to claim bronze overall, over 2 minutes clear of the chasing pack. This was just five seconds ahead of the time set by Hollie Orr from an early start, her time of 67:04 withstood the challenge of twenty of the runners who started after her, leaving her in the top 10 overall after a disappointing 24th place on Day 1.
With the top two almost eight minutes clear overall, the rest of the top ten was far more closely matched, with 3:35 covering 4th to 10th places, with every second over the two days proving crucial. Riina Kuuselo was 4th, just six seconds clear of Rachael Rothman, while a further 50 seconds back Mhairi Mackenzie took 6th spot just a second ahead of Sarah Rollins and 8 seconds ahead of Cat Taylor.
There was however some controversy, with control 6 on the women's race almost certainly in the wrong place - many finding tape on the correct feature, costing competitors anything from one to five minutes depending on how lucky they got. With all the top three managing to escape relatively unscathed, 5th place Riina Kuuselo was probably hardest hit, losing almost 5 minutes and with it a chance at a podium position early on in the course. You just need to
look at the GPS tracks
to get a decent idea of where the control was compared to the circle. On the men's course another control, number 19, appeared to be wrongly positioned, but most competitors escaped with less than two minutes damage.
Update: There was a protest on the women's course, which was rejected after the planner and a jury member visited the site and found the control to be positioned correctly. The tapes found weren't from this event, as canes were used to mark sites. No protests were made about the men's course.
On the men's course it was another runner doing well off an early start, with last year's champion Hector Haines sixth out in the forest on the men's course after his mispunch at Dunalastair, and his time of 95:51 led for most of the day, only being bettered by six of the other 56 finishers. Alan Cherry, who started in 23rd place was one of those, posting a time just 12 seconds quicker, catching his 3 minute man Nick Barrable on the long legs to 9 & 10, with both missing in the green at the north of the map, and enjoying a head to head race for the rest of the course until the final slope where Alan got away. Alan's time led until the finish of 10th last starter Doug Tullie, King of the Forest at last year's British Championships, posted a time almost 8 minutes quicker and smashing the 90 minute mark with 87:57.
Aside from an early 30 seconds dropped on the 4th control, and some time in the tricky low visibility control pick in the north where nobody escaped cleanly, Doug dropped very little time across the course. He did have a lead of 90 seconds over Scott Fraser before the final long leg to 20, but this was cut almost in half as Fraser ran the quickest leg time. The day 1 winner continued to make inroads over the final loops but couldn't quite find enough to overhaul his former Edinburgh University teammate, finishing 28 seconds down in 2nd, four minutes clear of Mark Nixon who he passed in the latter stages of the race. While Scott said that he was cruising rather than pushing out in the forest, he was taking nothing away from what was a great performance from Doug.
Nixon claimed third spot by just 2 seconds from Oli Johnson on the day, and with it took 3rd place overall by just 22 seconds from Johnson. Doug's day two destruction of the field moved him up from 10th to 2nd place overall, 4 minutes down on Fraser who recorded his first JK victory. Murray Strain was the remaining runner to beat Cherry's time, taking 5th place on the day and overall, and only those who broke the 100 minute mark on Day 2 made up the top 10 overall, with Pete Hodkinson in 6th and Alan Cherry in 8th showing great results as young seniors.
On the junior elite courses, Aidan Smith extended his impressive M18 lead with a four minute Day 2 win from Halden's Anders Felde Olaussen who he beat by ten minutes overall, with Bristol's Adam Potter a further 9 minutes adrift ahead of a more tightly packed podium, Edinburgh athletes Andrew Lindsay and Christopher Galloway sharing 5th place after over two hours of racing across the weekend, with Deeside's Oliver Williams in 4th.
Peter Bray's two second places were enough to give him overall victory in 20 elite, finishing just 16 seconds behind Hamar's Dag Lofthus on the day gave him a 41 second victory over the Norwegian overall. Southdown's Jonathan Crickmore finished 4th on the day behind Thomas Fellbaum, which was enough to see him overhaul day 1 victor Jamie Stevenson for third spot.
Lucy Butt of Sarum won W18 on day 2 by almost four minutes, catapulting her to the overall victory after 5th place on day 1, Florence Haines finishing 2nd on the day and overall, just a minute down. Zoe Harding was a further 5 minutes down on the day in third place, but comfortably clear to take the overall bronze too.
W20 was no closer, as Charlotte Watson won by eight minutes to take the overall title by 13 minutes from Katrin Harding who was second on the day, Kirstin Maxwell taking third place overall.
On the other junior courses, W16 was comfortably won by Halden's Gina Granstedt although she was edged out on the day by Marie Olaussen of Fredrikstad. W14 was again won by Thames Valley's Fiona Bunn, a three minute win extending her overall lead to six minutes over Lucy Haines who in turn was almost 10 minutes clear of third. Forth Valley's Grace Molloy was another double victor in W12, while Derwent Valley's Rachel Duckworth's second place was enough for overall victory in a closely fought W10 class.
Södertälje's David Borg won again, taking the M10 class, while Maroc's Jake Chapman did similar to win M12 by over 4 minutes overall. In M14 OD's Harrison McCartney was slightly less emphatic in victory on Day 2, winning by only 3 minutes to extend his overall lead to almost 13 minutes from Herman Marthinsen of Fredrikstad. The more Norwegian style terrain of day 2 suited Steinar Kollerud of Lillomarka as he took victory by almost a minute, but it was 3rd place Dane Blomquist who took the overall title ahead of Joe Woodley of Aire.
On M35 Interlopers' Dave Godfree took his second day win and with it the overall title, ahead of Roger Goddard, while on M40 James Logue also extended his lead with another clear victory, Simon Bourne of EPOC leapfrogging Jason Inman with second place on the day to take silver overall. Per Olaussen extended his lead on M45, as did Martin Bagness on M50, while on M55 it was all change as Clyde's Donald Petrie won the day but not quite managing to do enough to snatch second spot from Martin Dean as two second places saw the overall title go to John Tullie of Roxburgh Reivers.
M60 saw a very tight battle for second and third spots, Andy Hemsted winning by 3 minutes overall but just three seconds seperated Eddie Harwood from Alistair Wood, Eddie's six second margin from the first day halved but just enough to see him take silver overall. South Yorkshire's Peter Gorvett was another double victor in M65, as was his teammate in M70 Brian Shaw.
On W35 Kongsberg's Kari Strand took victory on the day, with Anne Straube's second place leaving her just 5 seconds down on overall victor Helen Marsden. Sarah Dunn overhauled Jenny Peel's lead to win W40 overall by just over a minute, winning day 2 by four minutes. Hazel Dean extended her W45 lead with another victory over Liz Campbell, while in W50 Alice Bedwell moved up from 5th after winning by almost 6 minutes to take the overall title.
W55 again went to Border Liners' Stella Lewsley, just over 30 seconds clear of Jill Libby again on Day 2, while in W60 Inara Gipsle from Thames Valley was more emphatic in her victory which saw her take the overall title by almost 14 minutes. Carol McNeil in W65 was even more emphatic, winning day 2 by over 14 minutes to give her victory by over 20 minutes.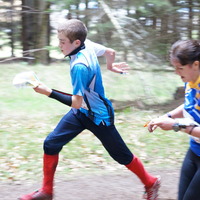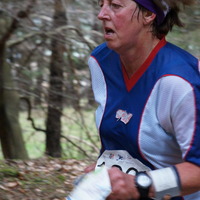 Nopesport relies on user submitted articles. Got an inside scoop? An event review? Please submit it to us.

Nope News
Orienteering headlines from around the web:
World of O
Nopesport is supported by these advertisements