JK 2012: Day 2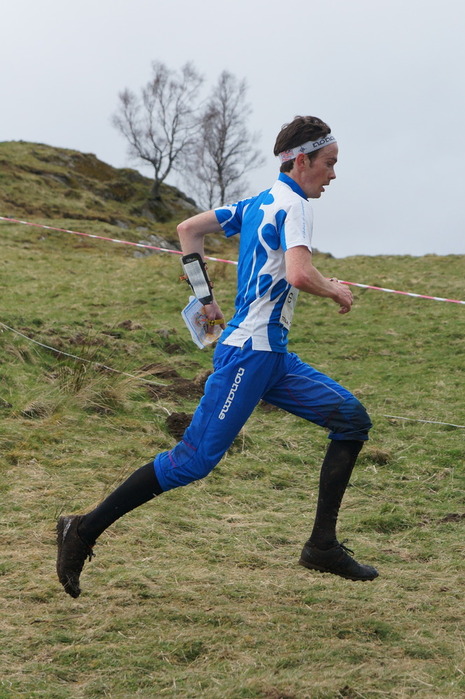 Scott Fraser on his way to victory in the JK middle
It was always going to be unforgiving, both physically and technically, and so it proved as Dunalastair played host to the first full day of competition at the Jan Kjellström International Festival of Orienteering with middle distance races for the elite and full length courses for everyone else.
The area's mix of commercial woodland, mature birch wood and physical open hillside presented a tough mix for all competitors, and despite a few showers the cool conditions proved good for competitors. Early starters faced a tougher test, as later runners benefited navigationally from tracking up in the terrain, but this in itself presented a physical test of its own.
Given the exciting racing on offer, and a highly visibly last control and finish, it was a shame that the assembly and parking layout precluded many of those attending from cheering on both their team mates and the elites who finished mid afternoon after most people had run.
The men's elite course was 5.1km with 230m climb, and proved too short in the end as the estimated winning time was smashed by Interlopers Scott Fraser who ran 29 minutes dead. He won by over two minutes from former Edinburgh University teammate Mark Nixon, while Sheffield's Oli Johnson took 3rd spot by just 1 second from Lilomarka's Jonas Juveli.
Oli benefited from catching his two minute man Murray Strain at the first control, one which caught out a number of the male and female elite competitors, and they raced together until Strain eventually opened up a gap on the long hilly leg to 17, but failed to make much inroads over the final few controls to finish in 6th. 5th place went to Peter Hodkinson, continuing his strong recent form with a great run from an early start, posting a time of 32:20 which withstood the challenge of all but four of the 50 runners who started after him.
Reigning JK Champion Hector Haines was left disappointed, caught by Scott Fraser at the first control, they raced together until Scott opened up a gap on the leg to 17 with a time 15 seconds quicker than anyone else, and in Hector's chasing haste he mispunched on the 3rd last control.
Another downside of the day's competition was the vegetation mapping (and printing), which was very poor in places, and Scott Fraser decided after the first control to pay little heed to it, and aside from a parallel error on the way to 6 dropped little time with this strategy as he cruised to victory.
This vegetation mapping proved troublesome for some of the women too, including winner Linnea Gustafsson who had her only major time loss, 2 minutes lost at the 3rd control which also cost a number of other competitors dearly, including Helen Palmer and Sarah Rollins. It was reigning JK champion Tessa Hill leading for the first third of the course, but a big miss after the spectator control took her out of contention of the podium as she was left disappointed in 12th.
Behind Gustafsson's winning time of 31:24 for the 4.4km course, Cat Taylor continued her strong form from the British Championships to finish in 2nd, just under 2 minutes down and almost 40 seconds up on Claire Ward. Behind them, and one of the cleanest through the course, was Mhairi Mackenzie. Having not raced for quite some time she may have lacked terrain pace but she minimised mistakes and finished just 3:20 down, but behind her things were much tighter, with just a minute separating 5th to 10th places.
Also on the elite courses for the middle distance were the 18 and 20s. W20 Charlotte Watson in 11th spot was the best of the lot, just over 5 minutes down with a time of 36:41, and only six seconds clear of Edinburgh University teammates Jo Shepherd in 12th and Kirstin Maxwell a further ten seconds and two places back. Of the W18s, Rona Lindsay won by a second from Zoe Harding, with a time of 37:37 placing her 17th overall.
In the men's, M18 Aidan Smith of South Yorkshire in 19th place was the pick of the juniors with a time of 35:32 putting him 3 minutes clear of his nearest rival Adam Potter, and just ahead of M20 winner Jamie Stevenson with a time of 35:49 in 21st with Peter Bray second, a further 15 seconds back.
Elsewhere, one of the performances of the day came from M14 winner Harrison McCartney of OD, winning by over 7:30 from Herman Marthinsen of Fredrikstad, who was also 7 minutes clear of 3rd place. Closer was M16, where just 20 seconds covered the top 3, with AIRE's Joe Woodley on top. Forth Valley's Grace Molloy was another clear winner on W12 by over four minutes, while W14 was won by three minutes by Thames Valley's Fiona Bunn.
On M35 Dave Godfree had a four minute lead, while James Logue was almost eight minutes up on M40. It was much closer on M50, as Lake District runners dominated, Martin Bagness edging out Quentin Harding by just 11 seconds, while on M55 it was the Scots in charge, with Martin Dean claiming a 27 second victory over John Tullie.
Helen Marsden and Jenny Peel both made up for their second places in the Sprint, winning W35 and W40 respectively, while in W45 Hazel Dean was five minutes quicker than Liz Campbell who was running up from W55. In W65 Carol McNeil made up for her sprint tie for gold, with a win by almost 5 minutes.
Nopesport relies on user submitted articles. Got an inside scoop? An event review? Please submit it to us.

Nope News
Orienteering headlines from around the web:
World of O
Nopesport is supported by these advertisements