Edinburgh sweep BUCS 2012 again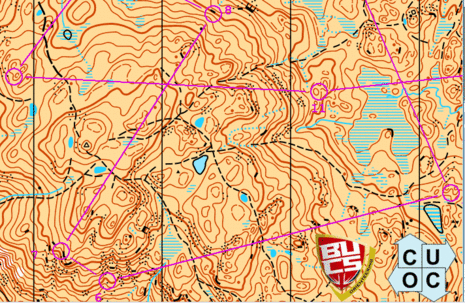 Men's individual at Loughrigg
This weekend Edinburgh took victory once again at the British University Championships with some tight battles and tough orienteering, but many fine performances were overshadowed by a controversial protest and disqualification in the relay.
On Saturday Loughrigg tested competitors with physical courses on open moorland, with mistakes tending to punish those who lost contact. Edinburgh's Hector Haines emerging victorious in the men's A course by over 3 minutes, in a time of 50:08 for the 7.4km course. Teammate Oleg Chepelin just held off a strong challenge from Oxford's Peter Hodkinson after a couple of 30-40 second misses early on, finishing just 7 seconds ahead in a time of 53:03. Doug Tullie completed Edinburgh men's team scoring in 4th place with a time of 54:11, but could have troubled the podium after a 2 minute miss on the 3rd control, while his OMM teammate John Rocke of Sheffield took 5th in 55:03, 8 seconds clear of Oxford's second counter Alan Cherry in 6th.

Peter Hodkinson on his way to 3rd place in the Individual, photo courtesy Ian Buxton on Flickr
In the women's race, after a small time loss on the first control, Rebecca Harding was near faultless through the rest of the course, winning six splits and taking 2nd in five more of the twelve controls, winning the 4.9km course in a time of 39:10. Sheffield's Anwen Darlington, 3rd last year, went one better in 2nd this time, almost 2:30 down, just seven seconds clear of Edinburgh's Cat Taylor, with Cambridge's Maireade Rocke in 4th in 42:27. Last year's winner Hollie Orr finished 5th, completing the Edinburgh team, but left disappointed after a 2 minute miss near the end left her outside the medals, as was Laura Daniel who might also have made a podium place but for a 2 minute miss on the penultimate control.

Bex Harding and Hector Haines, BUCS Champions, photo courtesy Ian Buxton on Flickr
An indicator of what was to come the following day in the relay, was that after the Edinburgh dominance at the top of the men's standings, it was Oxford's men who edged Sheffield out of 2nd, with Sheffield Hallam in 4th. In the women's standings it was more clear cut, Edinburgh clear of Sheffield, with Cambridge in 3rd, also well clear of Bristol - Oxford lacking a third woman to make up their team and finishing in 7th. Overall Edinburgh had a near unassailable lead with Sheffield comfortably in second, but Oxford were separated from Cambridge by just one point (having lost to the light blues in last weekend's varsity match), so there was plenty to fight for in the relays, unfortunately not all out on the course.

BUCS Men's Podium, Peter Hodkinson, Hector Haines and Oleg Chepelin, photo courtesy Ian Buxton on Flickr

Start of the men's relay, photo courtesy Ian Buxton on Flickr
The relays were held on the classic Lakes area Bigland, offering fast and furious head to head racing on tricky terrain. In both the men's and women's races, Edinburgh's first leg runners were first home, Cat Taylor following up her individual bronze with a storming run on first leg to send Jo Shepherd out with a two minute lead over another Edinburgh team led out by Kirsten Strain with almost another 2 minutes before the next team, Katrin Harding of Cambridge, in what was to be quite a spread out women's race in places.
In the men's race it was much tighter, as Jamie Stevenson led home first leg, passing on to Mark Nixon just a couple of seconds ahead of a storming run from Durham's Peter Bray, Doug Tullie just over 90 seconds back in third with Hallam's Kris Jones not far back, and Sheffield's Rob Gardner and Oxford's Ben Stevens a further 30 seconds adrift.
While Jo Shepherd and Bex Harding extended the Edinburgh first team's lead to win comfortably by nine minutes from their teammates, third place was still up for grabs on the final leg as Rona Lindsay managed to overhaul Anwen Darlington's 80 second lead to make it a clean sweep for the Edinburgh women by 16 seconds from Sheffield who had to settle for 4th.
On the second leg for the men, Mark Nixon was caught by Oleg Chepelin and a flying Dave Schorah of Hallam halfway round the course, but managed to hold off the challenge of the latter, to send Alasdair McLeod out with a slim lead over Jack Wright, while Chepelin sent Hector Haines out less than a minute back. Only a couple of minutes adrift, Oxford's Peter Hodkinson and Sheffield's John Rocke went out together on the chase in 4th and 5th spots.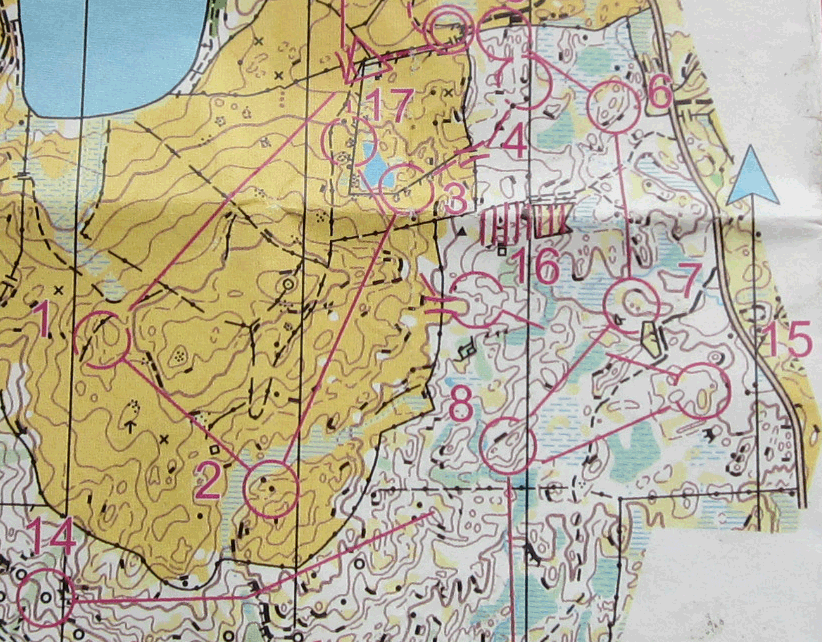 It was on this final leg that the controversy arose, in particular with the wall north of the red line between 14 & 15 (above) being declared uncrossable in the final details, with first leg runners also reminded of this fact at the start.
Peter and John were racing head to head and gaining on Alasdair McLeod and Hector Haines who both missed at 14. Leaving 14 they were just 15 seconds back, and Peter took a route north through the open to 15, losing Rocke in the process, and catching McLeod by 16 with Haines having missed again at 15. Hodkinson proved to have the legs over the final few legs to bring home Oxford 8 seconds ahead of Edinburgh, with John Rocke and Sheffield a further 30 seconds down with Haines another 90 seconds adrift.
Amongst the facts and hearsay, a protest was submitted and a jury ruled Oxford should be disqualified as per the final details, which stated:
The area contains a large number of stone walls. While ruined walls can be crossed anywhere, all other wall must be crossed at the designated crossing points which will be either gates or stiles highlighted by tapes. The lines between controls go via these crossing points and provide the optimum route. Any team found crossing a wall at any other point will be disqualified.
As such, Edinburgh took first and third spots on the men's podium with Sheffield second, taking the gloss off an otherwise impressive set of results across the weekend, particularly in the woman's relay where they took the top three.

Edinburgh women sweep the board in the Relays, photo courtesy Ian Buxton on Flickr
This marking, or not, of crossable features which should not be crossed has come up again and again in recent years, and the same point is made: while competitors should read (and remember?) information in the final details (indeed they must read these, as ignorance of the event information isn't acceptable in the rules - see 1.3.4) , that won't mean a thing in the heat of a race, and the only way to avoid these issues is to give competitors the information they need on the map - overprint uncrossable features as per the rules (Appendix B, 3.1.21):
Uncrossable boundaries (ones which it is forbidden to cross) which affect the course should be indicated by overprinting the mapped feature with a solid line
The discussion rumbles on in the forums on both the rules and the protest.
Overall Edinburgh took the title convincingly, and would have done whatever the result in the relays, with Sheffield second and Cambridge third - just 5 points clear of Oxford. Durham and Bristol rounded off the top 6 ahead of Sheffield Hallam, Leeds, Newcastle and Imperial completing the top 10.
Away from all the fuss, it is great to see a wide range of teams involved, and given some of the performances outwith Edinburgh and Sheffield this weekend hopefully there'll be an even bigger fight for medals next year, albeit with less controversy.
Full results are available from the CUOC site:www.cuoc.org.uk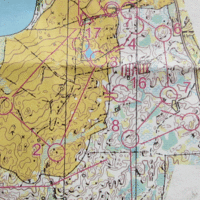 Nopesport relies on user submitted articles. Got an inside scoop? An event review? Please submit it to us.

Nope News
Orienteering headlines from around the web:
World of O
Nopesport is supported by these advertisements