British & Scottish Night Championships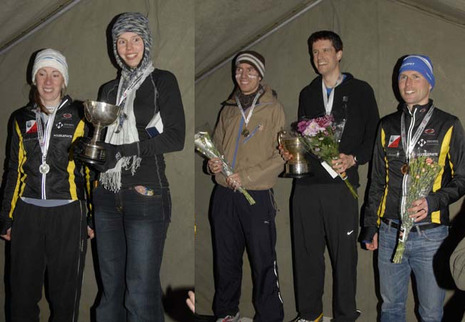 British Night Champions: R Rothman & H Bridle; M Strain, M Bown & A Rothman
This weekend at opposite ends of the country, the first trophies of the UK orienteering season were dished out, to the British Night Champions in the New Forest and the Scottish Night Champions in Deeside.
British Night Championships
For those in the South, the British Night Championships was also the first round of the UK Cup, and 17 men and 10 women battled it out for points and prizes, with some close times deciding titles across all the age classes.
Hamptworth in the New Forest offered a mix of mature woodland, mixed plantation and patches of rhododendrons, with controls predominantly scattered across vague point features, vegitation, ditches and gullies, most of which would make for a tough challenge in daylight, let alone at night.
In the women's race it was Edinburgh's Helen Bridle who emerged victorious by just 40 seconds from Sheffield's Rachael Rothman in a time of 54:01 for the 6.9km course, with British Army's Sarah Rollins a further 5 minutes adrift in third. Nobody was clean round the course, but Rachael missed on a number of controls, and having already raced the National Cross Country championships in London earlier in the day (helping Hallamshire to team victory) it was still an impressive result given she ran much of the course alone, with Helen Bridle catching Sarah Rollins and being caught by M18 winner Adam Potter.
In the men's race Bristol's Mark Bown took the win with a time of 80:45, just holding off another of those taking part at the cross country earlier in the day, Murray Strain, by 25 seconds over the 11.4km course, with Alex Rothman in third and Ant Squire 4th both within a minute of the winner. Squire could have won it but for a 6 minute miss on the 5th control meaning he was always going to have a tough task to get back on terms.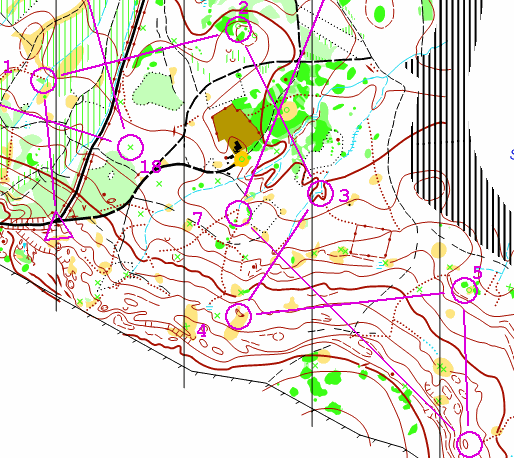 Elsewhere there were wins for Southdowns' Nick Jarvis on M16 by 50 seconds, and Bristol's Adam Potter on M18. Julie Emmerson of OD comfortably won W16 from her sister Rachel.
M35 was won by Neil Kerrison, while M40 was convincingly won by Richard Barrett, 11 minutes clear of Andy Monro. South Yorkshire's Jenny Peel won W40, but husband Dave couldn't match her win, losing out to teammate Martin Ward, in M45 by just 5 seconds.
M50 was won by Mark Saunders, just 21 seconds clear of Charles Bromley-Gardner with Neil Crickmore just a further 17 seconds adrift while W50 was convincingly won by Alice Bedwell, 7 minutes clear of Julia Jarvis.
Full results are available on the Emit website.
Scottish Night Championships
Up in Deeside, there couldn't be much more of a contrast in terrain, with the tough Scottish forest Glen Dye hosting the Scottish Night Championships. Contour and rock detail was plentiful, coupled with vaguer areas and lower visibility forest catching out those not taking care with their navigation.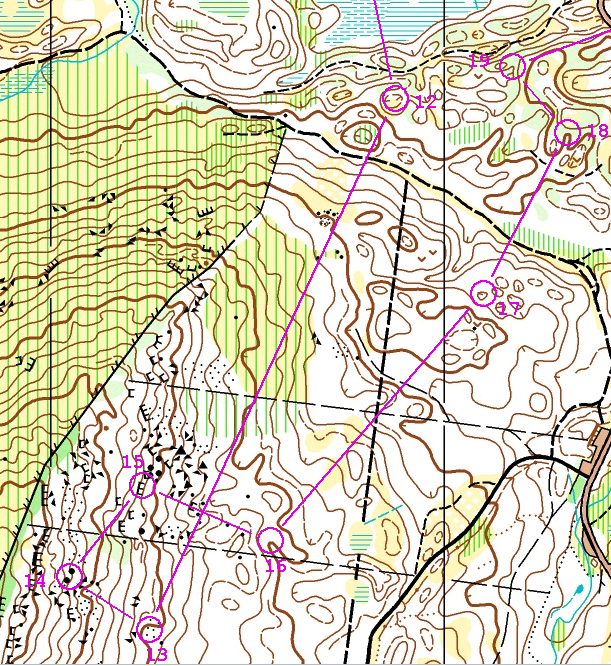 On the 9.2km men's course, the Edinburgh University trio of Alasdair McLeod, Hector Haines and Mark Nixon leading the way by over 10 minutes from the rest of the field and seperated by less than 2 minutes, with Alasdair winning in a time of 69:10. Cleanest round the first half of the course, Alasdair had a sufficient lead to compensate for a few 1 minute misses on the second half during a course that offered no let off towards the finish.
On the women's race, Edinburgh's Hollie Orr was well clear, winning by almost 5 minutes from local (W40) Sarah Dunn, with her teammate Alice Leake in 3rd. Hollie's time of 58:37 for the 6.1km course placed her third, behind M40 winner Jason Inman who did 57:01 and M50 winner Jon Musgrave in 2nd with 58:30.
Full results and routegadget available from the Gramp website.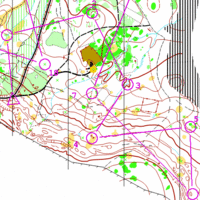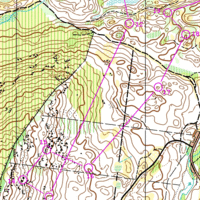 Nopesport relies on user submitted articles. Got an inside scoop? An event review? Please submit it to us.

Nope News
Orienteering headlines from around the web:
World of O
Nopesport is supported by these advertisements