March in the Marches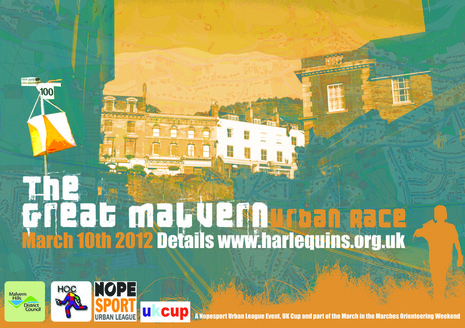 Entry deadlines are swiftly approaching for the March in the Marches weekend in March, including Nopesport Urban League race 3 in Great Malvern on the 10th, followed by the Midland Championships on the 11th at Foxley and Garnstone in Herefordshire. Both races are also part of the UK Cup, with Sunday's race also part of the UK Masters Cup.
Saturday's urban race will provide a fascinating challenge as competitors discover the delights of Great Malvern, a spa town set on the slopes of the Malvern Hills. Terrain will offer a mixture of streets and alleys, private grounds, common land and steep, varied hillside. 
Sunday's event provides this year's Midland Championships at Foxley and Garnstone.  Foxley, used for the JK in 1994, is a wide wooded ridge around 3 sides of a farmed valley, with a complex path, track and ride network. As it is a sporting estate expect to see plenty of pheasants & deer! 
Find out more about the events on the Harlequins website, and get your entries in here - entries close 29 February.
Nopesport relies on user submitted articles. Got an inside scoop? An event review? Please submit it to us.

Nope News
Orienteering headlines from around the web:
World of O
Nopesport is supported by these advertisements