Edinburgh University Big Weekend 2012

Edinburgh University would like to welcome you to their Big Weekend 2012 on 21/22 January, with entries now open.
This year will follow in the footsteps of the previous Big Weekends success but will be bigger and better. In the spirit of the event all races and socials will be accessible through public transport around the city.
On Saturday there will be a city race round the historic sites of Edinburgh. This will also be part of the coveted Nopesport Urban League, the courses on offer are:
A: Mens open
B: Womens open, Mens vet
C: Womens Vet, Mens Supervet
D: Womens Supervet, Mens Ultravet
E: Womens Ultravet, Junior W/M16-
It should be noted that the any juniors under the age of 16 cannot for insurance reasons enter any other than course E. This course will be fully enclosed in Pollock Halls of Residence and the course will be set as hard as possibly to provide a challenge for all, this should be kept in mind when entering. Starts for this event will fall between 11:00 and 14:00.
Following this there will be a traditional Scottish Ceilidh on Saturday evening at a central location. This will include a live Ceilidh band, the prize giving for the day's competition, a traditional dressing of the Haggis and beverages for sale for all.
A Sosol will be held on the iconic Arthurs Seat on Sunday. There will be the full Sosol courses on offer from beginner to classic distance. On top of this, new to this year, two additional courses will be on offer. Think you have been to Arthurs Seat before? Why not try our mass start event, a chance to hone your relay skills or just do something a bit different. There will be two mass start courses available, short and long, the winning times for these will be 45 and 65mins accordingly.
Edinburgh is a fabulous city with many magnificent sites, the Big Weekend offers you the opportunity to see Edinburgh from a different perspective. The city is easily accessible with the airport 25mins bus ride from the city centre and Waverley Station being the terminal stop for many major rail links.
This year we are also offering a stylish technical t-shirt with the new Big Weekend logo. This will be available for pre-order when entering and a limited number will be available at the event for £12. Sizes small to xlarge will be on offer in a standard colour.

Looking for somewhere to stay?
There are a number of Bed and Breakfasts and independent hostels across Edinburgh, for a comprehensive guide please check:
http://www.scottishaccommodationindex.com/edinburgh.php
There is also the possibility of accommodation at the Student Halls of Residence which is well situated for all events:
http://www.edinburghfirst.co.uk/for-accommodation/pollock-halls
All events are accessible by bus from within the city, to check the bus routes and timetables click the link below: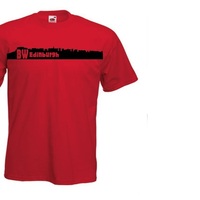 Nopesport relies on user submitted articles. Got an inside scoop? An event review? Please submit it to us.

Nope News
Orienteering headlines from around the web:
World of O
Nopesport is supported by these advertisements