JWOC Long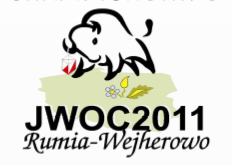 The second race of the 2011 Junior World Championships was the long distance. Again, no qualification races just a straight final with 7.6km for the women and 11.1km for the men over the fast beech forest hills.
In the women's race there were no surprises as Ida Bobach continued her campaign with another convincing win in the long distance; her third JWOC gold medal in a row for the distance.
Once again is was the Sweden's Tove Alexandersson who was the first runner to finish close to the estimated winning time. However her winning time lasted less than 10 minutes as, once again, Emma Klingenberg of Denmark finished with a time just under 1 minute faster. However times coming in from the radio controls were making it pretty clear who was going to win today. Ida Bobach took the lead early on and was never really challenged, taking the gold medal by just over a minute and half. So once again, Denmark's starlets take the top two places.
Second, Emma Klingenberg, DEN - "I ran really well, and it was so tough, really tough! I didn't think it would be this hard, but I tried to push the whole way round. I'm very satisfied with my race"
There was more success today for the British girls with Mairead Rocke and Julia Blomquist once again posting great results, finishing in 14th and 15th place respectfully. Rebecca Harding, 40th and Charlotte Watson, 43rd also had some solid runs. The younger members of the team, Zoe Harding and Lucy Butt, perhaps struggling with the distance at the first JWOC, but gaining valuable experience with 3 more years left as juniors.
Women: Map here
1. Ida Bobach, DEN – 55:23
2. Emma Klingenberg, DEN – 56:51
3. Tove Alexandersson, SWE – 57:37
4. Natalie Chepaeva, RUS – 1:00:54
5. Anna Närhi, FIN – 1:01:14
6. Aušrine Kutkaite, LIT – 1:01:21
------
14. Mairead Rocke, GBR – 1:03:52
15. Julia Blomquist, GBR – 1:03:54
40. Rebecca Harding, GBR – 1:08:05
43. Charlotte Watson, GBR – 1:09:00
85. Zoe Harding, GBR – 1:18:50
92. Lucy Butt, GBR – 1:20:58
In the men's race there were some familiar names from yesterdays sprint distance. At the first radio is as Austria's Robert Merl who had a slight lead over sprint gold medalist Lucas Basset from France. Pavel Kubát, Czech Republic and Yngve Skogstad of Norway also dipped under the 21-minute mark.
By the second radio Yngve Skogstad had forged himself a 40 second advantage over Lucas Basset, with Kubát and Merl close behind. Florian Howald, the sprint bronze medalist from Switzerland moved up into 5th place after a poor start to his race.
At the third and final radio Skogstad held his 40s lead over Basset with the others dropping behind by over a minute. The Norwegian must have been running really strong in the last section as he more than doubled his lead in the last 20 minutes of the race. Robert Merl also ran well towards the end and closed in on Lucas Basset, beating him by just 13 seconds.
Winner, Yngve Konstad, NOR - "I didn't run full speed at the beginning, it was a controlled race. Technically it was OK, but I didn't do a really good race. I made some mistakes and I don't think I made the best route choices"

Second, Robert Merl, AUT - Q: After a 4th place yesterday, did you expect a medal? "I hoped it would be one, but I didn't expect one", "...(during the race) I felt it could be, but actually I made some mistakes so I thought maybe I would be top 10"
Third, Lucas Basset, FRA - "I didn't make so many mistakes, it was quite a clean race technically, but I didn't have fresh legs. I hade some pain in the back of my leg during the warm up, so I never had a good feeling during the race"
Kristian Jones was again the top performer for Great Britain, finishing a highly respectable 23rd place, not bad for someone who is considered a sprint specialist. Peter Hodkinson was not far behind in 27th, another solid run from him. Alan Cherry did very well for a debutant, placing in 42nd place whilst Jonathan Crickmore and Jamie Stevenon were a little way behind in 59th and 62nd.
Unfortunately Matthew Halliday was the victim of some horrendous bureaucracy; having misplaced his SI card at the start area (athletes are bussed from the accommodation straight to the start) he was told he would not be able to use a spare and was not allowed to start. He got a run, but only once everyone else had started and with the clock running from his original start-time.
Special mention must go to the Spanish pair of Antonia Martinez and Andreu Blanes who once again posted top 20 results.
Men: Map here
1. Yngve Skogstad, NOR – 1:08:49
2. Robert Merl, AUT – 1:10:23
3. Lucas Basset, FRA – 1:10:36
4. Florian Howald, SUI – 1:12:03
5. Pavel Kubát, CZE – 1:12:17
6. Gleb Tikhonov, RUS – 1:13:29
------
23. Kris Jones, GBR – 1:17:39
27. Peter Hodkinson, GBR - 1:18:26
42. Alan Cherry, GBR – 1:20:16
59. Jonathan Crickmore, GBR – 1:24:00
62. Jamie Stevenson, GBR – 1:24:15
101. Matthew Halliday, GBR 1:37:15*
For full results, splits, maps and to follow the rest of JWOC, visit the official JWOC 2011 Website
Nopesport relies on user submitted articles. Got an inside scoop? An event review? Please submit it to us.

Nope News
Orienteering headlines from around the web:
World of O
Nopesport is supported by these advertisements