JWOC Sprint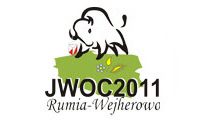 The 2011 Junior World Orienteering Championships, being held in the leafy hills of the Pomorksie region of north Poland for the third time, opened today with the sprint distance event round the small town of Lebork. With no qualifcation race it was straight into a medal final with 134 women and 164 men from 36 nations fighting it out for gold.
In the women's race one of the favourites Tove Alexandersson of Sweden set a very fast time halfway through the day but was visibly frustrated in her post race interview with a 20 second mistake towards the end of the course. It was a great time, but a clean run from one of the other top girls would surely beat it. When asked who she thought might win Alexandersson's response was "Ida Bobach or Emma Klingenber of Denmark"...
As runners continued to come in no one was able to match the Swede, but New Zealand's Angela Simpson produced a fantastic time and was sitting in the medals as she finished. But as the race got towards the business end of the start-list the big guns came out. Tereza Novotna, Czech Republic was the first runner to beat Tove Alexandersson, by a clear 18 seconds. Then Ida Boach, Denmark's future star, ripped through the radio control and finished 12 seconds fast than Novotna. There was only one girl left who could challenge Bobach, her compatriot Emma Klingenberg, the 2008 JWOC sprint champion. However Klingenberg was no match for the pace of WOC runner Bobach and had to settle for silver. Ida Bobach's JWOC medal collection now contains 9 medals, 5 of which are gold.
Winner Ida Bobach, DEN - "It was really good, I only made a small mistake at the beginning. At the end I thought it was really tough to run so fast, but it was quite good"
Second Emma Klingenberg, DEN - "I also made one small mistake in the beginning. I tried to take it, not slow, but easy in the beginning and then put the speed up at the end, and it worked"
Third Tereza Novotna, CZE - "I think I made a good race, and I am satisfied with the result. I hope (for more) in the next races"
There was some strong running from the British girls, Julia Blomquist ran herself into a new best position of 16th, closely followed by Mairead Rocke and Rebecca Harding in 20th and 21st. Charlotte Watson and Zoe Harding also ran into respectable top 40 positions with Lucy Butt most likely chalking up her first JWOC race as "experience" with many years of international racing ahead of her.
Women: MAP HERE
1. Ida Bobach, DEN - 14:29.5
2. Emma Klingenberg, DEN - 14:31.8
3. Tereza Novotna, CZE - 14:41.5
4. Tove Alexandersson, SWE - 14:59.3
5. Julia Gross, SUI - 15:15.7
6. Angela Simpson, NZL - 15:16.2
------
16. Julia Blomquist, GBR - 16:00.5
20. Mairead Rocke, GBR - 16:07.0
21. Rebecca Harding, GBR - 16:09.3
33. Charlotte Watson, GBR - 16:31.8
40. Zoe Harding, GBR - 16:39.6
81. Lucy Butt, GBR - 18:01.2
In the men's race it took a while before any runners even got under 16 minutes. Then, not surprisingly, it was a Swiss runner who laid down the first great time. Florian Howald started in the first half of the field and took a significant lead when he finished. He was going to have a long wait ahead of him to see if he could hold onto a medal. Robert Merl of Austria was the next runner to even challenge Howald, 65 minutes later, finishing just over a second down.
Into the last 20 starters and Howald was still holding onto the top spot, but the talented Lucas Basset of France flew round beating the Swiss runner by over 10 seconds. Shortly afterwards came the biggest surprise of the day; Spain's Andreu Blanes had a fantastic run and certainly the best ever performance by any Mediterranean orienteer to better Florian Howald by 2 seconds and take the silver medal. This was perhaps not a total surprise as Blanes took 3 top 20s in last years JWOC, a fantastic set of performances by any nation's standards.
Winner Lucas Basset, FRA - Q: Was it a perfect race? "Yes, almost. I made one bad routechoice, otherwise it went really good. I don't know if it was a mistake, but it felt not so good. Otherwise, I didn't fall into any traps so it was really good"
Second Andreu Blanes, ESP - "Incredible. I think it was a perfect race and I'm really happy", Q: Did you expect a medal? "I dreamed of it, I don't know if I expected it. I just ran and then saw the result"
Third Florian Howald, SUI - "It was quite stressful to wait for the other guys (to finish). But I tried to relax. I had a good race, so I was really satisfied at the finish"
For the British men it was always going to be hard to live up to Kris Jones's fantastic silver medal last year. In the end Kris finished just under a minute down in 17th position with Peter Hodkinson not far behind in 26th. Again the debutants struggled, but will no doubt be stronger for the experience and ready to learn from the lessons in the coming events
Men: MAP HERE
1. Lucas Basset, FRA - 15:07.7
2. Andreu Blanes, ESP - 15:17.4
3. Florian Howals, SUI - 15:19.1
4. Robert Merl, AUT - 15:20.4
5. Michal Olejnik, POL - 15:31.5
6. Eskil Kinneberg, NOR - 15:33.0
------
17. Kris Jones, GBR - 16:04.0
26. Peter Hodkinson, GBR - 16:21.8
42. Jamie Stevenson, GBR - 16:41.7
53. Matthew Halliday, GBR - 16:54.5
77. Alan Cherry, GBR - 17:26.0
87. Jonathan Crickmore, GBR - 17:38.4
For full results, splits, maps and to follow the rest of JWOC, visit the official JWOC 2011 website
Nopesport relies on user submitted articles. Got an inside scoop? An event review? Please submit it to us.

Nope News
Orienteering headlines from around the web:
World of O
Nopesport is supported by these advertisements