JK 2011: Northern Ireland - Relay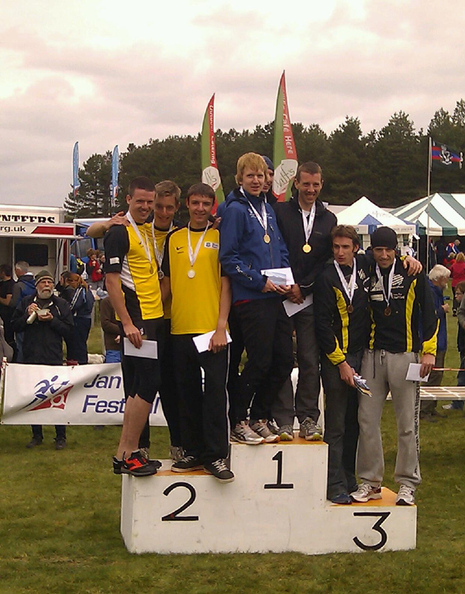 JK Trophy Podium - ShUOC/INT/SYO
The final day of competition for JK 2011 saw a return to Tyrella, this time towards western end where competitors were once again faced with complex dunes which tested them both physically and technically. Would lessons have been learnt from Saturday's races, or was the pressure going to leave previous mistakes forgotten by competitors in the heat of head to head relay racing?
With an arena setup on a shooting range, participants and spectators had a good view of a long run out, spectator control 2/3rds round the longer courses, and finally a run in with a short sharp climb to finish for leg 2 & 3 runners.
It certainly seemed that mistakes were being made out on first leg, as the men in the JK Trophy came back through the spectator control well separated with Ant Squire clear of Dave Abrahms in the chasing ShUOC team and Ian Nixon of AIRE, with some surprise teams of LOC with Todd Oates, OK Oest Birkeroed with Soeren Skaarup Larsen and a mixed team led by Edinburgh Centre of Excellence coach Toni Louhisola. The second pack behind them a couple of minutes down contained many of the favourites, including the two Edinburgh University teams, South Yorkshire and Bristol.
Ian Nixon and Dave Abrahms closed the gap to around 20 seconds over the final loop of the course, with faster running round some urban controls through a military training ground and a couple of controls on the golf course before returning to the finish. Ant handed over to Oleg Chepelin with Steve Watkins of AIRE and ShUOC's Dave Schorah hard on his heels with a minute gap to the next chasing pack, with Toni Louhisola showing the Edinburgh Uni teams how to do it by leading them in another minute behind.
Meanwhile in the Women's Trophy Tessa Hill continued her successful weekend, vanquishing some daemons from the middle distance while opening up a sizeable gap over the chasing Finn Riina Kuuselo of OD. By the time they reached the finish Tessa had a lead of almost 3 minutes as she handed over to Lindsay McMillan, while behind OD were West Cumberland's Charlotte Watson 30 seconds down and Cork's Toni O'Donovan not much further back. Another minute separated them from the chasing hordes of AIRE, Sheffield University and Cleveland with the British Army, South Yorkshire and South Ribble teams a further minute back.
On the second leg the ShUOC and Interlopers teams came together, and maintained a minute lead over the chasing pack as AIRE dropped back. Knowing Murray Strain preferred to chase than be chased, Oleg wasn't overly worried about Dave Scorah coming past him to send John Rocke out in first, 17 seconds ahead of Strain. Edinburgh Uni's Duncan Coombs charged through the field to pull them up to third, just under 2 minutes down with clubmate Hector Haines a further 45 seconds adrift. South Yorkshire's Neil Northrup had dragged them up from 12th to 5th, but still 2½ minutes down on the Edinburgh team ahead.
As for many on the longer courses all morning, the first control proved pivotal on deciding the last leg. While Strain lost contact during the leg and near the circle he recovered quickly, losing a minute, but John Rocke lost much more. By the time the courses came together again at 4, Strain was 30 seconds up, and at the spectator control this has extended to over 90 with Murray finishing two minutes clear at the end to give Interlopers their first JK Trophy victory. Perhaps they did need Graham or Ralph, but it was a strong showing from the Sheffield University team gaining some revenge on Edinburgh University for BUCS earlier in the year.
David Brickhill-Jones completed the recovery for SYO with his best run of the weekend, overhauling the two Edinburgh University teams, Mark Nixon by the spectator control and then finally reeling in and passing Alasdair McLeod in the final stages of the course to take third place. Meanwhile Nixon had a battle of his own to hold off Rich Robinson, who in running the fastest time of the day took 10th place Nottingham up into a battle for 5th. Robinson had Nixon in sight leaving the urban section into the golf course and punched the final control just ahead, but couldn't hold him off on the sprint finish as Edinburgh's second team took 5th, one second ahead of Nottingham.
In the women's race Julia Blomquist of British Army and Mairead Rocke of South Yorkshire went out together on the same gaffle in 9th and 10th and stormed through the field ahead, Mairead led the way until a mistake at the penultimate control let Julia through, and she sent last leg runner Sarah Rollins out in front with an 18 second lead on the chasing Rachael Elder.
Having missed the classic, Rollins had fresh legs and on the area where she won the middle race a couple of days earlier was always going to be favourite for this tussle but it wasn't so straightforward. Once again the two runners had the same gaffle, and Elder caught the 18 seconds quickly to be on Rollins shoulder from the first control. Sarah opened up a slight gap at the 5th, and extended this on the 6th to come through the spectator control at 7 a minute up, a lead which she extended slightly over the final section of the course to give British Army first place, 1:22 up on the South Yorkshire team. Behind them Claire Ward of Edinburgh Southern had chased down the best part of two minutes on Sheffield University's Laura Daniel to open up a gap of 10 seconds at the spectator control, extending this to 25 seconds at the finish.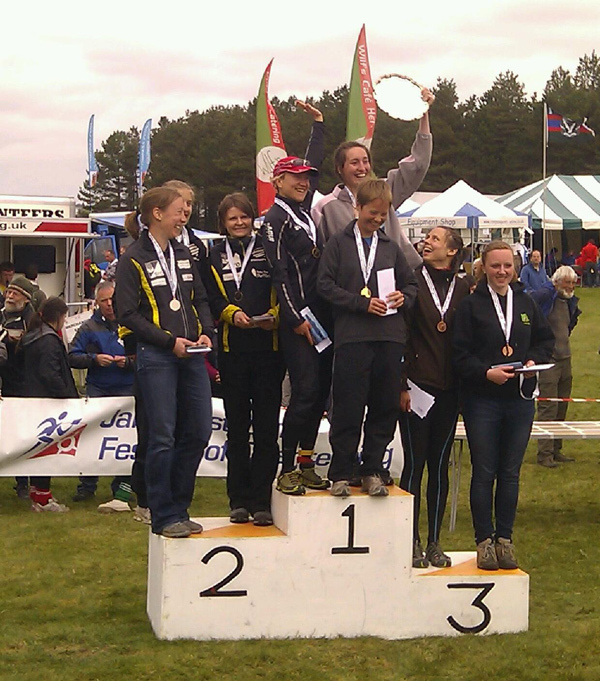 JK Women's Trophy Podium - SYO/BAOC/ESOC
Elsewhere there was exciting racing across the classes, with the mini-relays just avoiding the JK Trophy starting stampede and DVO overtaking AIRE and Bristol on the final leg, with just 20 seconds covering the first 3 teams. In M/W40 the local Lagan Valley 'Littl'uns' team came home victorious, ahead of a couple of non-comp teams, before the Forth Valley 'Fantastic' overtook Devon's 'Raiders' to pick up 2nd place.
In an exciting W48- Katherine Hall of South Yorkshire came from behind and did enough on the sprint finish to give her team a 3 second victory over Lakeland, while behind them Becky Young of Happy Herts had the faster sprint for the line to take 3rd, holding off OD's Julie Emmerson who had caught 30 seconds out on the course. In M48- South Yorkshire were clear winners after a great second leg run from Michael Adams. The slightly out of season Bristol 'Blizzards' overtaking OD and MDOC on the last leg to take 2nd place, with the 'ODd Bods' taking 3rd.
On Men's short Sheffield Uni's Nic Barber with his 'Naked Surprise' couldn't quite spring enough of a surprise on Southdowns Alan Velecky of 'SO little hair', finishing 4 seconds down, with Happy Herts picking up third spot just ahead of Eryri. On the Women's short Bryony Harding pulled Happy Herts up to a convincing victory, with Southampton overtaking Bristol to take 2nd.
South Yorkshire won convincingly on M120+, a strong first leg from Martin Ward finished off with great runs from Charlie Adams and Bill Edwards giving them a 6 minute win over British Army with Forth Valley in 3rd. In W120+ Interlopers Mary Ross did the damage on final leg to the Forth Valley 'Floozies' chances in a head to head battle, opening up a 100 second lead on last leg to take their second title of the day, Aire rounding things off in 3rd.
In M165+ the aptly named Guildford team 'GOing for Gold' did just that, 3 minutes clear of Aire with South Ribble's 'Tactics' not quite right in 3rd. In W165+ Lakeland legend Carol McNeill did the damage on second leg, pulling her team up into 1st with a storming run, Helena Burrows finishing the job off as they finished ahead of Happy Herts with Diane Leakey in the SLOW 'Lane' team overtaking ESOC to take 3rd.
So an exciting day to end a fantastic weekend of racing in Northern Ireland, well organised events appreciated by over 2000 competitors who enjoyed the best of Northern Irish hospitality. Next year the JK will head to Scotland, but before that in less than two weeks time we've got the British Championships.
Full results and splits available from the SportIdent website, with routegadget from the week available from the JK website.
Nopesport relies on user submitted articles. Got an inside scoop? An event review? Please submit it to us.

Nope News
Orienteering headlines from around the web:
World of O
Nopesport is supported by these advertisements