The Epic Tri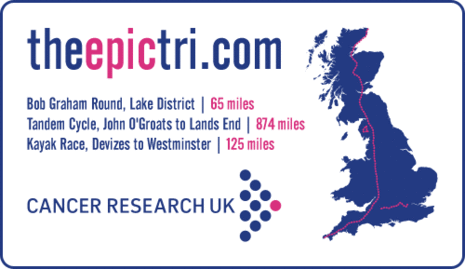 Tonight Bruce Duncan and Ant Emmet will set off on a triathlon of epic proportions, taking in three of the biggest endurance challenges in the UK.
Bruce is well known amongst the orienteering community in the UK as brother of top elite Jon, and a former GB international at both foot and mountain bike orienteering in his own right. In recent years he has turned his hand very successfully to adventure racing, both as a competitor and course designer.
Setting off at 20:00 tonight, Monday 18 April, they'll be running the Bob Graham round: ~65 miles around the 42 major fells in the Lake District, with around 27,000ft climb, all within 24 hours.
This is the classic endurance challenge in the fell running community, most typically undertaken mid-summer for the benefit of increased daylight and likelihood of good weather, so fingers crossed that the weather gods are kind tonight and tomorrow.
They'll recover by being driven overnight to John O'Groats in the far north of Scotland, before jumping on their tandem bike the next morning and setting off down the length of the country. John O'Groats to Lands End is another classic endurance challenge, and Bruce and Ant expect to ride the 874 miles in around 60 hours.
Finally they will get another chance for some rest as they head to Devizes in Wiltshire, where they will be jumping in a kayak to take part in the 125 mile Devizes to Westminster kayak race. 125 miles in a kayak is no mean feat, but throw in the need for 77 portages at canal locks, and the need to hit the Thames at Teddington to benefit from the tide, it is no wonder this is the toughest kayak race in the country.
Each of these is a massive challenge in their own right, but put together they are a true feat of endurance. Get behind the guys and find out more about this incredible challenge on their Epic Tri website, but more importantly dig deep and support their very worthy cause of raising money for Cancer Research UK by donating here: uk.virginmoneygiving.com/theepictri.
Good luck to Ant and Bruce, follow their progress live from tonight on the Epic Tri website and on twitter @theepictri.
Nopesport relies on user submitted articles. Got an inside scoop? An event review? Please submit it to us.

Nope News
Orienteering headlines from around the web:
World of O
Nopesport is supported by these advertisements