Team USA kickstart their season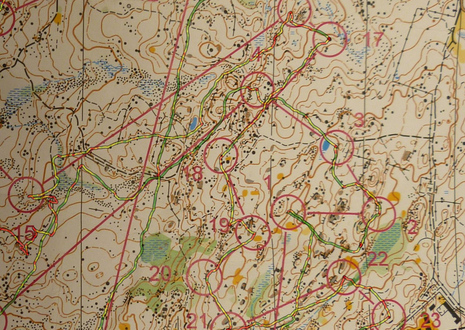 Team USA emerged from hibernation after a long, snowy winter, to take part in the first training camp of the year. The setting for this event was New Haven, a small town in Connecticut (most well known for being home to Yale) surrounded by miles of amazing, but mostly unmapped forest. The mapped forests in south New England are an orienteering heaven - lightning fast with plenty of rock and contour detail, and only the odd brown bear to hinder the tired navigator. The high visibility makes it easy to be a lazy orienteer, so the season began with a weekend of Back to Basics Training focussing on visualisation and fine navigation. Courses included the standard control pick, line, and a fun compass course with no map that caught out many an experienced pro. Early signs suggest that Sam Saeger and upcoming ex junior Hannah Burgess are in good early season form, with Ross Smith in fantastic physical shape but with some technical work to do.
The evening brought a sprint training session on an unnamed campus, with an almost ISSOM map being their introduction to the sprint format for some of the competitors. With insurance concerns and many towns planned on a grid format, it is exceptionally difficult to both get permission to hold official sprint races and learn to sprint well over here. Most sprints are in State Parks and forests on non-standard maps which come nowhere near the complexity of your average ancient Mediterranean town or village. Nonetheless, I planned the most devious course of ninja secret sprint orienteering possible, which caught many out (including myself, where I didn't realise a control description was ambiguous, resulting in many people missing my favourite leg), and included many of the sights of the unnamed campus, including a control description of "Dinosaur, foot of." Seasoned sprinter you'd-think-I-could-spell-his-name-by-now Boris Granovskiy probably took the crown in this race, though Ross Smith and Jordan Laughlin, another new Senior talent from the West Point Military Academy were not far behind. The West Point Military Academy produces a large number of the older juniors orienteers on the East Coast, and lies on the edge of Harriman State Park, site of WOC the last time it was held in the USA, and a thoroughly breathtaking back yard. Jordan has been working furiously on all aspects of his orienteering while here, and has shot up the rankings over the last six months. He will be battling Ross Smith for the top of the US Rankings this year.

After a great potluck supper on the edge of New Haven with resident super fast Swede Marie Arnesson and her beau Mike Galler, the Sunday brought an opportunity to put the basics into action, with a head to head handicapped race at Ansonia, site of last year's WRE. Boris designed personally handicapped courses for all participants, and was remarkably accurate in aiming for a sixty minute winning time for all. Despite a talk from US legend Peter Gagarin that "this was the race we've all been waiting for, one where we can all be the winner," those with technically great runs (and perhaps a little underhandicapping) were the true winners, with Kseniya Popova and Giovanni Berlandi (an Italian import) holding it together well to win the Men's and Women's races. Sam Saeger again showed her class, completing her 7.5km course in a mins per km pace which placed her above pretty much everyone but Ross. Both Jordan and Hannah suffered some setbacks, drifting on the tricky long slope legs and struggling to relocate. Ansonia has many devilish slopes with few features connecting pockets of more intricate detail, which have been the foil of many a good orienteer in the past.

The first major A meet of the season taken place this weekend in Ohio, although many are choosing to stay local and train near Boston instead. Looking further on in the season there's the Billygoat, a long mass start race where skipping a control is allowed, the more traditional West Point A-meet in Harriman, and the US Team Trials, which is being planned by Irish Team member Neil Dobbs and is promising to be a tough test of abilities. Looking forward to WOC, predictions for the team are still up in the air. Rumour has it that "old timers" Boris Granovskiy and Ken Walker will be trying to get back into the squad, whilst the women's team behind Sam is wide open. No doubt there will be a place for Alison Crocker, ex-Oxford, just arrived back home from her unbelievable 8th place in the long individual at Ski-WOC and raring to get into the forest. There are high hopes for an improvement on last year's great relay result for the women, and the men will be hoping to increase their rate of A final qualification. There is more USA banter to be had on the US Team blog.
Nopesport relies on user submitted articles. Got an inside scoop? An event review? Please submit it to us.

Nope News
Orienteering headlines from around the web:
World of O
Nopesport is supported by these advertisements