On Test: Inov8 Oroc 280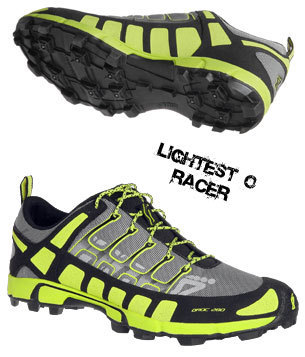 The new Inov8 Oroc 280
Category: Lightweight, dob-spiked orienteering shoe.
RRP: £100
Our Ratings (out of 5.0)
Price 3.6
Comfort: 4.6
Performance: 4.7
Build Quality: 4.2
Overall: 4.3
What We Say: The Oroc 280 is the lightest model of the much anticipated new range of Orienteering shoes from British-based Company Inov8. I saw these for the 1st time in February along with 2 other shoes in the range with their brand new Shoc-Zone™ inset dob-spike system and was itching to try a pair on to see how they faired. I finally got that chance and used them straight from the box, usually a risk with orienteering shoes having got blisters every time with previous 'cold-run' efforts. However it wasn't the case with these, mainly due to the fact the design of the upper is taken from Inov8's very popular X-talon cross-country shoe.
From the off, they felt comfortable and although I don't like the laces they use, it's a painful experience to get them tight, were a good fit even on my narrow feet. In the terrain they performed well too. I was using the well-known Scottish-highland's area, Inshriach, which has a variety of underfoot conditions. Whether it was mud, wet rock, slippery branches or rides the Orocs seem to grip well. The Shoc-Zone™ spike system is designed so that you only use the spikes when they're needed i.e. not when you're on tracks. I don't know about that but they were comfortable there too.
A quick review of the shoes after my excursions saw no real sign of early wear as you'd hope, however only time will tell how the build & particularly the spikes will hold up to sustained use (abuse). Overall I'm impressed with Invo8's efforts in what seems to be a well thought out move in to the Orienteering market, albeit they come with a hefty price. Also not sure if the other two shoes in the range have place in the UK market.
In Short: A very good, well thought out shoe with good grip on all surfaces with what appears to be hardwearing upper from a company quickly becoming the go-to people for off-road footwear. The hefty price tag may hamper its success and only time will tell how the build will hold up.
What They Say: The OROC™ 280 offers an incredible fusion of low weight, super traction and maximum breathability. It is a performance racing shoe designed to make the difference when every second counts. The neoprene tongue ensures that the shoe can be laced tightly and provides additional protection from dirt and debris. Capable of producing winning splits in all types or terrain, the 2 Arrow Shoc-Zone™ under foot protection provides instant proprioceptive response to changes in underfoot conditions.
Website: www.inov-8.com
Nopesport relies on user submitted articles. Got an inside scoop? An event review? Please submit it to us.

Nope News
Orienteering headlines from around the web:
World of O
Nopesport is supported by these advertisements