Final Nopesport Urban League standings 2010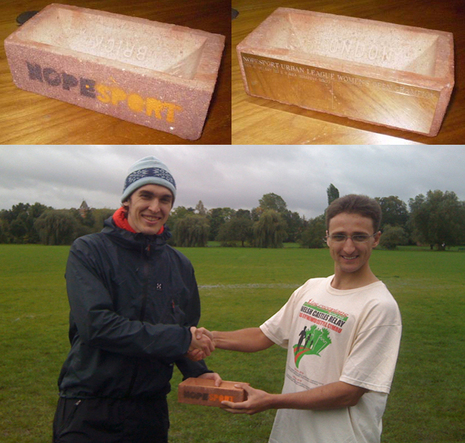 Ed Catmur receives the coveted Nopesport Urban League trophy
This season the Nopesport Urban League has gone from strength to strength, with 12 races stretching from Edinburgh in January to Warwick in October, via old favourites such as York, Sheffield, Lincoln and London, and newly mapped towns such as Carlisle, Pickering and St Andrews. With it, urban orienteering is booming. Its importance can be seen by the numbers competing (in the league there has been around 1400 runners clocking up 2500 scoring runs between them), the number of new urban races cropping up outwith the league, and urban racing being recognised by British Orienteering as a unique type of event with some good (event guidelines), and some bad (insurance), consequences.
Roger Thetford who kindly (and very swiftly) manages the league scoring gives his rundown of the results below, with the top three in each category listed below, and final results here: women, men.
Juniors
Simon Bradbury picked up his fourth win, and his sixth scoring run took him past big brother Adam. Although Michael Adams won the under-16s race round the park, eight finishers on the Urban course (which ranks first) meant that he could only improve by two points so Alex McCann hangs onto third. Elizabeth Parkinson and Amy Kimberley both improved their Junior Women scores slightly, but the order didn't change.




Junior Men (M18-) races best6
Simon Bradbury SYO M16 6 586
Adam Bradbury SYO M18 7 567
Alex McCann MDOC M16 6 550

Junior Women
Elizabeth Parkinson NOC W18 7 592
Amy Kimberley DVO W16 8 550
Karen Maxwell RR W16 5 465

Open
Liam Harrington and Ollie O'Brien both improved but Ed Catmur was safe in first place despite not having won a race all season. Jenny Johnson had already won the women's competition but Charlotte Ward won the Warwick race impressively and moved up to second.



Open Men
Edward Catmur SLOW M21 8 563
Liam Harrington LOG M21 8 540
Oliver O'Brien SLOW M21 7 495

Open Women
Jenny Johnson SYO W21 7 585
Charlotte Ward HALO W18 6 576
Blanka Collis DRONGO W21 6 537

Veterans
Martin Ward managed to blag a late entry, having turned down selection for the Veteran Home Internationals in an effort to retain his brick. But to no avail: despite being at the VHIs Charlie Adams (just!) had a good enough lead, and clung on by a single point. With Liz Phillips controlling the Warwick race, Delia Kingsbury was safe to take the women's title.



Veteran Men
Charlie Adams SYO M45 7 585
Martin Ward SYO M40 9 584
Roger Thetford TVOC M45 6 545

Veteran Women
Delia Kingsbury WRE W45 10 568
Liz Phillips OD W45 9 560
Carol Edwards TVOC W50 6 536.5

Superveterans
Bill Hanley confirmed his victory with a second place on the day ahead of Doug Henderson. Mike Hampton's 8th was just enough to put him into a tie for third with Tony Carlyle. Having led the W55+ course in Warwick all the way round, Lynden Hartmann lost time in the park at the end of the race and was two seconds down at the last control, before a tremendous sprint gave her a win by one second. This put her one point ahead of Glenys Ferguson's overnight total, but second place for Glenys improved her score by six and she took the trophy.



Superveteran Men
Bill Hanley SYO M55 9 585
Douglas Henderson RR M55 10 571
Tony Carlyle AIRE M55 8 550
Mike Hampton OD M60 8 550

Superveteran Women
Glenys Ferguson SROC W60 8 562
Lynden Hartmann HOC W55 10 557
Susan Findlay-Robinson WCH W55 8 531

-----------------
Congratulations to all the winners, and to everyone who took part. Thanks must go to all the clubs who have organised events this season and especially to Roger for his efforts on the scoring. We'll have more on the 2011 series soon, for now you can discuss the 2010 series in the forums.
Nopesport relies on user submitted articles. Got an inside scoop? An event review? Please submit it to us.

Nope News
Orienteering headlines from around the web:
World of O
Nopesport is supported by these advertisements