Park World Tour: wins for Jansson and Østerbø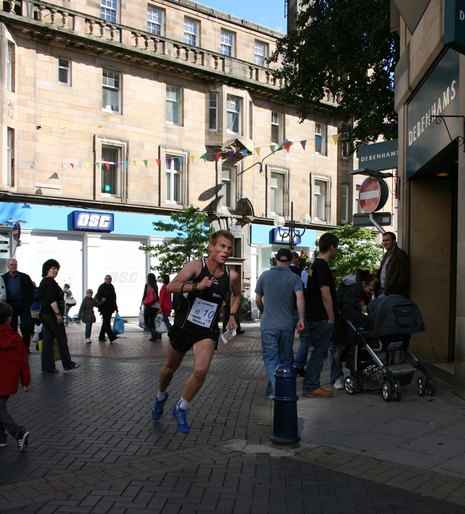 Øystein Kvaal Østerbø races to victory through Perth high street
Following Friday's tricky qualification at Scone Palace, Perth City Centre hosted an exciting and contrasting Park World Tour final on Saturday, as the technical orienteering through narrow alleyways proved as difficult a test as avoiding startled shoppers for some of the world's best orienteers.

After some heavy downpours as the event was being setup, the skies brightened and the sun came through in time for Saturday's Park World Tour final, allowing crowds of orienteers and bemused passers by to see the event, and the sport, at it's best. The arena at Perth Concert Hall, and the streets of Perth City Centre, hosted an exciting final, as the technical orienteering through narrow alleyways proved as difficult a test as avoiding startled shoppers for some of the world's best orienteers.

With expert and entertaining commentary from the legendary Per Forsberg, a big screen showing footage from the start, finish and out on the course, as well as radio controls and a live feed of results to the internet, the stage was set for one of the best produced events ever seen in this country. Given this setting, the races certainly played their part in an exciting spectacle, with the early starters from the open qualification setting good times which took some time to beat.
Women's race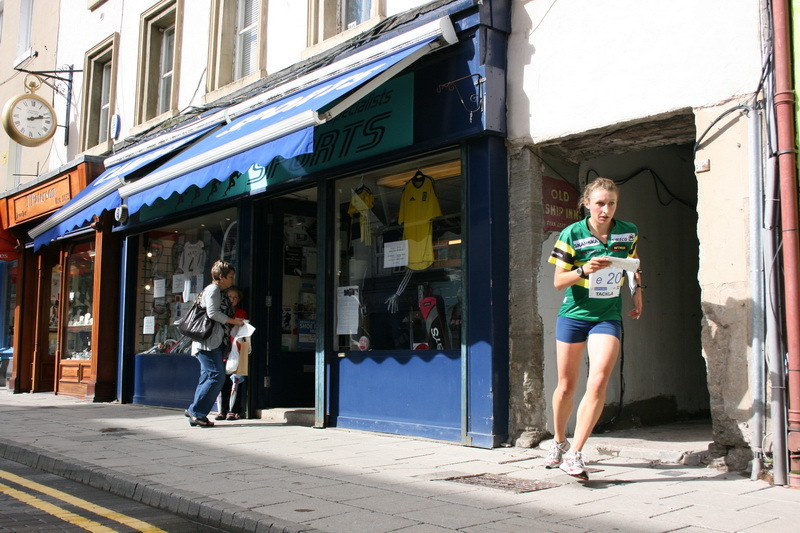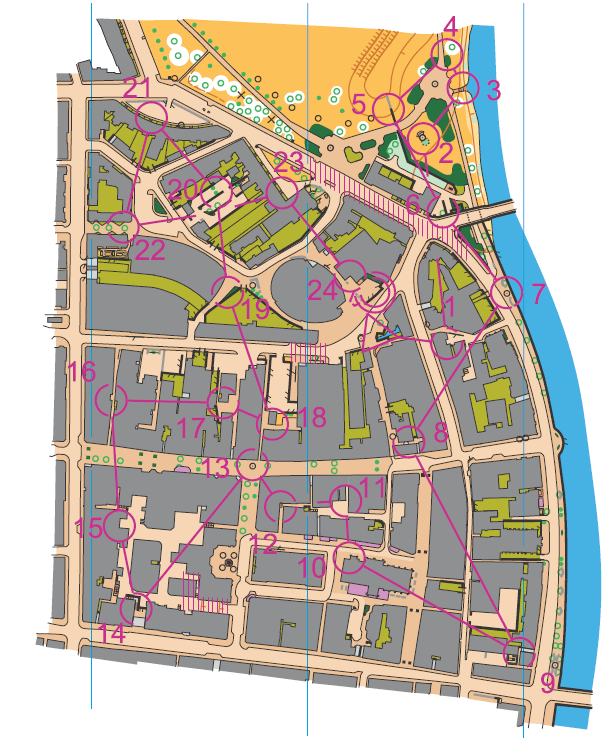 Clare Ward, the women's open qualification winner, was again fastest with a time of 17:44 for the 2km course before next starter, and first elite starter, Maria Sa of Portugal went 7 seconds quicker. Having had her second child back in January, Clare was delighted with her run: "I'm just coming back and I'm still not as fast as I was, so I'm excited about this result."

After that though, it wasn't until the first of the Swedes finished that these times were beaten, Lina Backstrom posting a time of 17:06. Britain's Pippa Archer then went even quicker in 16:12, a substantial lead which sadly didn't last long as sub 16 minute times were then done, first by Annika Bilstram before Linnea Gustafsson took the leading time down to 15:36.

This time looked like it could be a winner, with next starters Fanni Gyurko then Maria Magnusson not getting anywhere near. Sarah Rollins' early times looked promising, but in the pressure of the race she missed a control out towards the end. After that there was only one runner left in the field, and that was one of the world's best sprint orienteers.

Helena Jansson went out as favourite but didn't have it easy, an 8 second lead at the first radio control (#7) grew to 20 seconds before she lost 15 seconds on the leg leaving the St Johns centre rooftop (#15-#16). Her lead was down to 3 seconds and then 2 seconds at the next two radio controls (#18 & #19), but she was clean over the final section to take a 16 second victory over her compatriot Gustafsson.

Helena was delighted with the win, and the challenge that course planner Graham Ackland had set, saying: "I've never seen an orienteering course like this, it was really tricky with little streets and alleys, this was just the way it should be. I think it was more difficult than the world champs, this is a whole different level, you don't get street orienteering like this in Norway".

Pippa Archer, Britain's best finisher in 4th place said afterwards: "That was fantastic, you had to read the map the whole time and I let that decide how fast I ran. I was cruising, never stopping but being very careful."

So top open qualifier was Clare Ward finishing in 7th, while Maria Sa just ahead of her scored one of Portugal's best ever results on the international stage. Good results were also had by some of the younger British runners, relishing the opportunity to take the scalps of some top elites. Hazel Wright in 12th, along with Mairead Rock and Charlotte Watson in joint 14th can take a lot from these performances. As can youngsters Kirstin Maxwell and Joanna Shepherd, with both W18s running the open races and posting times which would have seen them in the top 15, Kirstin's time of 18:31 would have given her tenth place.


Pos Name Time
1 Helena Jansson SWE W21 15:20
2 Linnea Gustafsson SWE W21 15:36
3 Annika Bilstam SWE W21 15:54
4 Pippa Archer GBR W21 16:12
5 Lina Backstrom SWE W21 17:06
6 Maria Sa POR W21 17:37
7 Claire Ward SCO W21 17:44
8 Niamh O'Boyle IRL W21 17:50
9 Veronica Minoiu ROM W21 18:12
10 Fanni Gyurko HUN W21 18:32
11 Jessica Halliday GBR W21 18:34
12 Hazel Wright SCO W20 18:41
12= Maria Magnusson SWE W21 18:41
14 Mairead Rocke GBR W20 18:53
14= Charlotte Watson GBR W18 18:53

Full results.
Men's race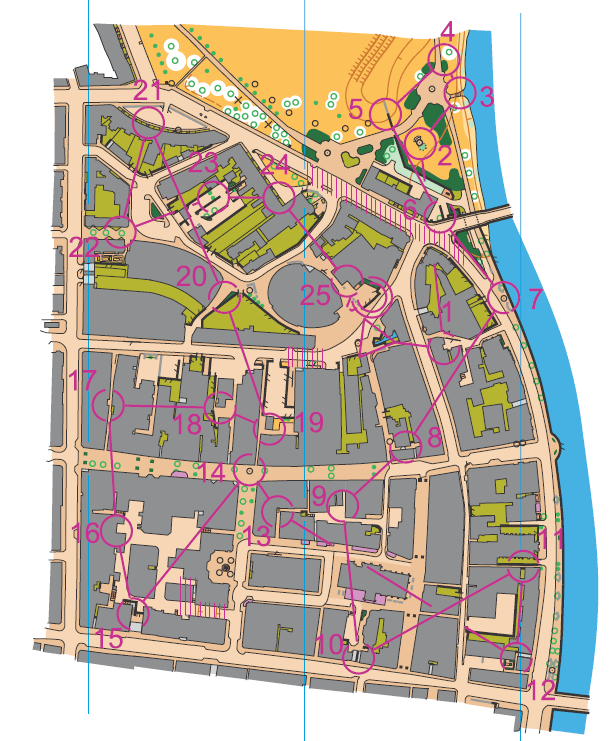 In the men's race it was also strong times from the open qualifiers that set the early pace. After a disappointing qualification race, it was a determined Murray Strain leading for some time on the men's course with a time of 15:06, before the top open qualifier, Finland's Tuomas Kari, broke the 15 minute mark with a time of 14:57 for the 2.1km course.
This time withstood everyone bar two of the invited elites, and it was Øystein Kvaal Østerbø, another who had a disappointing qualification, who posted a blistering time of 14:22 with a clean run bar a few small hesitations. Starting 10th last, Øystein awaited the challenges from the later starters, and Jerker Lysell went closest at the first radio control, before losing time at the following control (#8).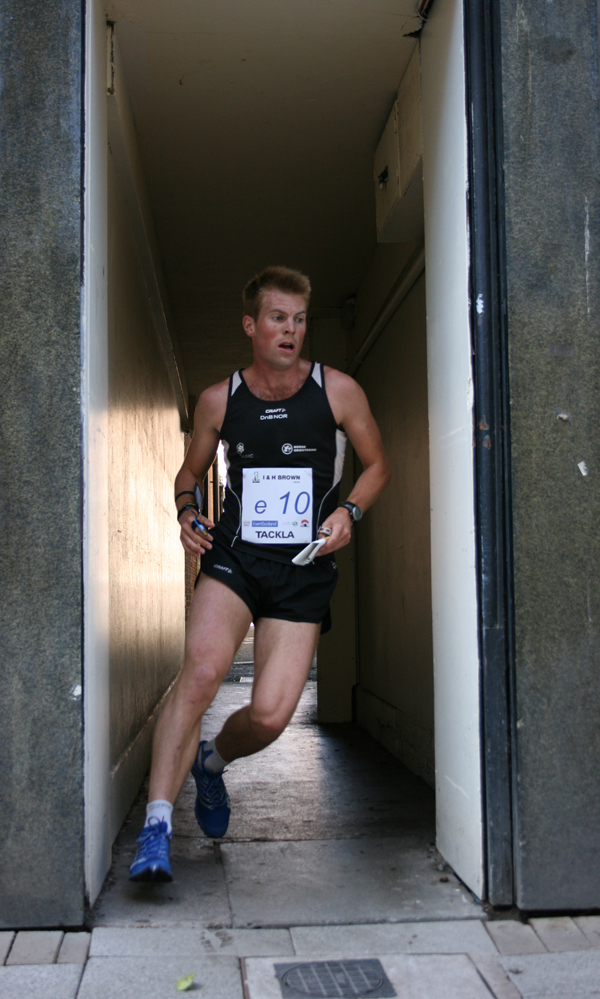 Graham Gristwood, the last starter, snatched the lead by a second at this first radio control (#7), but he too fell victim to the next control and lost 15 seconds. Another mistake on leaving the St John's rooftop (#16-#17), where Graham couldn't find the steps he'd initially come up, dropped a further 25 seconds and he faced a fight to claim a top 3 position. Clean round the final section, Graham came home to massive cheers from the home support to take 2nd in a time of 14:50 to push Tuomas down to third.

Øystein Kvaal Østerbø was happy with his winning run, saying: "I hesitated losing a few seconds, and lost a few more in my route choices, but it was a good run".

While slightly disappointed, Graham Gristwood was happy to take 2nd: "Really happy with the race, thought it was fantastic. Constantly challenging, fast running but really technical all the way – exactly what orienteering should be. I made a few small mistakes, but I think in this kind of race it's really hard not to. It was reminiscent of Venice in a lot of ways."

The support given was also recognised by Graham: "It was a bit of a surprise, you were running down an alley and suddenly you come out into this big square with hundreds of people cheering – that was pretty special".

Murray felt lacking in pace and technically, but enjoyed the challenge: "It was tricky, it was fast. There were a lot of people out on the course, and a lot of them had no idea what was going on, so it was really hard charging down the main shopping street here in Perth. You were trying to look up to pick the right alleyway to go down, whilst looking out for shoppers getting in your way and trying to read the map at the same time."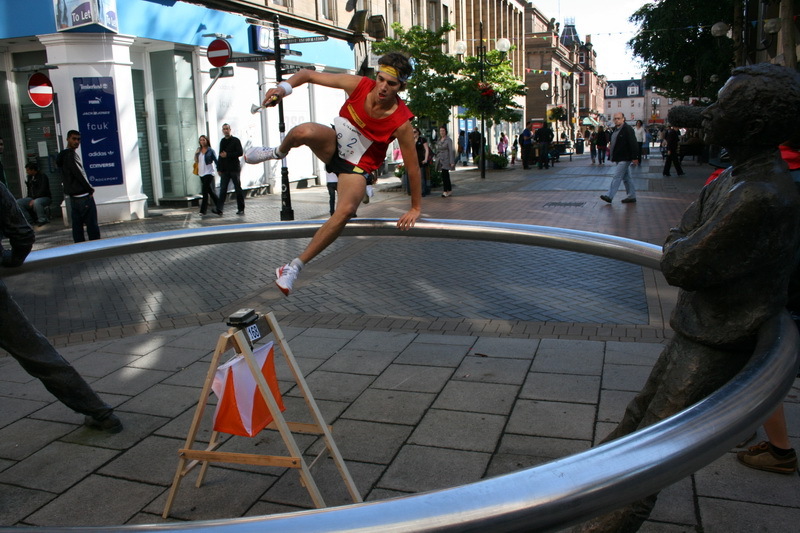 Edinburgh University athletes Hector Haines and Alasdair McLeod both had good showings in the final, finishing in 10th and 12th places respectively, a minute down on the winner, while Nick Barrable showed he's still got what it takes to mix with the best in sprint racing, finishing in 8th place.


Pos Name Country Time
1 Oystein Kvaal Osterbo NOR M21 14:22
2 Graham Gristwood GBR M21 14:50
3 Tuomas Kari FIN M21 14:57
4 Jerker Lysell SWE M21 15:04
5 Murray Strain SCO M21 15:06
6 Zolt Lenkei HUN M21 15:07
7 Lars Skjeset NOR M21 15:10
8 Nick Barrable GBR M35 15:11
9 Raffael Huber SUI M21 15:19
10 Hector Haines GBR M21 15:22
11 Vesa Tanilla FIN M21 15:28
12 Alasdair McLeod GBR M20 15:32
13 Diogo Silva Miguel POR M21 15:33
14 Nick Simonin IRL M21 15:39
15 Chris Smithard GBR M21 15:46

Full results.
Officials comments
The event proved to be an excellent showcase, and event organiser and professional officer with the Scottish Orienteering Association Scott Fraser said: "This weekend has been an excellent showcase for the sport as well as for Perth. We've been supported throughout by Perth and Kinross Council along with our sponsors local firm I&H Brown and also Event Scotland. The driving force behind this weekend is to act as a springboard towards our ultimate aim to host the 2015 World Orienteering Championships and to demonstrate that Scotland remains a world class orienteering venue."

At the prizegiving banquet Donald Grassie the SOA president was also delighted by the success of the event. He highlighted the youth of the organising team and the way that they had risen to the challenge that they had set in staging such a high profile event in Scotland. The team also earned many words of praise from Jorgen Martensson, one of the originators of the PWT concept, who was delighted to see the PWT delivered true to it's original ethos – particularly with many elite athletes driving it's success.

Andrew Dalgleish was the man behind the technology at the event, and along with a fantastic team delivered a great production, saying: "This was, in my mind, the most technologically advanced orienteering event to date in the UK, certainly that I've been to, combining light gate, radio controls, commentary, live results, live video feed, and the big screen. We should be proud of what we achieved and hopefully it will help our case in bringing the World Championships to Scotland in 2015."

For more on the event, including full results, splits and routegadget for both the elite and open races, as well as many photos, visit the Park World Tour website.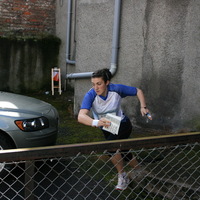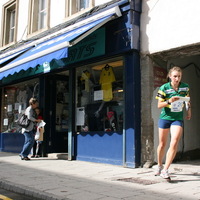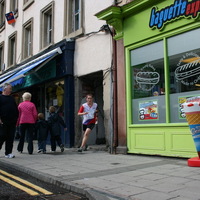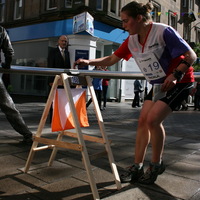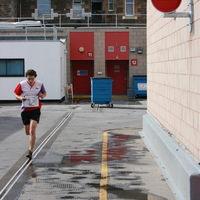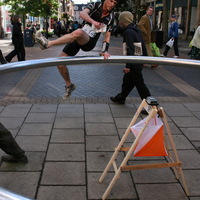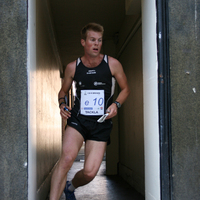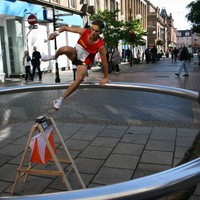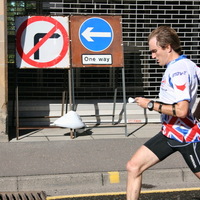 Nopesport relies on user submitted articles. Got an inside scoop? An event review? Please submit it to us.

Nope News
Orienteering headlines from around the web:
World of O
Nopesport is supported by these advertisements