Cliffhanger Ultrasprint Returns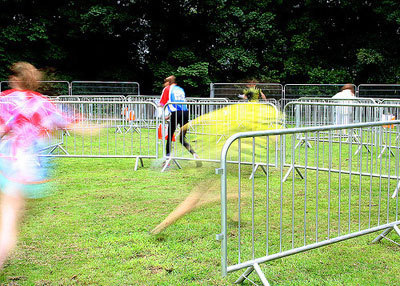 Junior competitors in action at the 2009 Ultrasprint
The UK's premier Ultrasprint orienteering event will return to Cliffhanger on Saturday 3 July. A high intensity, high speed form of orienteering, the Ultrasprint starts and finishes into a specially constructed labyrinth. Competitors face a technical and physical challenge that includes complex map reading, multi-terrain racing, and a number of river crossings. A number of the UK's top elite orienteers will battle it out over a qualifying stage and final to become the Ultrasprint champion 2010. Qualifiers are open from 11am-1pm and the chasing start final begins at 2pm. EOD only, entries are FREE to all visitors to Cliffhanger.

Visitors to Cliffhanger can experience the labyrinth for themselves Sunday 4 July after watching the experts racing around the park on Saturday. It is free of charge to take part and test yourself over a series of short courses of increasing difficulty. South Yorkshire Orienteers will have a number of experienced athletes on hand to offer tips and coaching, and you will be provided with a specially produced map that is yours to keep. All ages and abilities are welcome.

Cliffhanger is one of the UK's largest outdoor outdoor-pursuits festivals, based in one of Sheffield's biggest green spaces. The aim of the event is to Inspire & Involve. Featuring competitions or demonstrations in rock climbing, orienteering, kayaking, mountain biking, running, skiing & snowboarding, skateboarding, free running, adventure racing and more, visitors will be able to watch elite sports-people of all ages competing or demonstrating, and then take part in the sports they have just been inspired by. Pay to enter the festival and orienteer for free.
Nopesport relies on user submitted articles. Got an inside scoop? An event review? Please submit it to us.

Nope News
Orienteering headlines from around the web:
World of O
Nopesport is supported by these advertisements