Highlander Mountain Marathon In Gairloch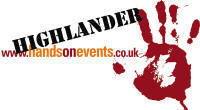 Highlander 2010
Highlander 2010
GAIRLOCH
10th and 11th April

The location for this year's Highlander is in the wonderful hills around Gairloch in the North West Highlands. The planners and controllers have been out through the winter and have put together a fantastic set of courses. The area provides stunning scenery to rival all the past highlanders. The Ceilidh band is booked and the Bar will be stocked so why not enter now!
www.handsonevents.co.uk

Haglofs
The Swedish outdoor company Haglöfs first introduced its Intense range in 2006, and since then have established themselves as one of the leading brands to provide top notch super lightweight gear for high adrenalin activities.
As part of their commitment to the development of this range they are now working with Tim Higginbottom and Chris Near, both leading Mountain Marathon runners, and for the next 3 years will be supporting the Highlander Mountain Marathon where top prize for the A class will be £500 to spend on Haglöfs gear, and every entrant will receive a 15% discount voucher to be used in purchasing Haglöfs gear from Craigdon Mountain Sports.

The Haglöfs UK team will be present at the event with the latest Intense range including tops, shorts, tights, jackets, rucksacks and footwear, and you can find more about the company and its products on www.haglofs.se

Craigdon
Craigdon Mountain Sports, proud sponsors of the 2010 Highlander Mountain Marathon, are celebrating 25 years of business this year! It's hard to believe how much has happened over the years; we've expanded from a small shop in Inverurie, to four shops covering much of the North of Scotland - not to mention an ever-increasing web presence. We pride ourselves on providing one of the most comprehensive ranges of outdoor clothing and equipment in the industry, and are committed to sourcing the right mix of technical product as well as those which offer the best value for money.
On top of all that, we've got an even bigger line-up of kit to see you through your winter training. Come along and speak to the experts for a new pair of off-road running shoes or to check out the lightest kit on the market.
See our latest offering at our stores in Aberdeen, Inverness, Inverurie, and Perth or visit our new-and-improved website at www.craigdonmountainsports.com.

Nopesport relies on user submitted articles. Got an inside scoop? An event review? Please submit it to us.

Nope News
Orienteering headlines from around the web:
World of O
Nopesport is supported by these advertisements