The Urban League Finale - ShUOC Sheffield City Chase, 21st November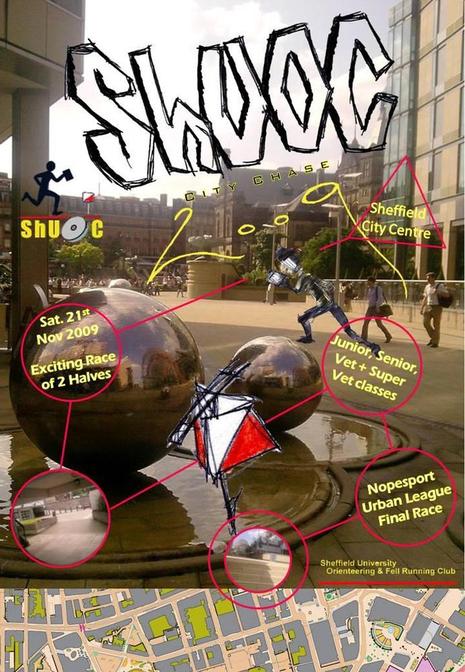 City Chase 2009
Sheffield University Orienteering Club invite you to the Sheffield City Chase on the 21st November 2009,the final round of the Nopesport Urban League. With assembly at Hallam University Hubs, this will be the first chance to race around the streets of the steel city. With many intricate estates, underpasses, alley ways and squares, the centre of Sheffield is a tricky urban environment, and the courses should provide a challenge as well as taking in many of the city's landmarks.
The event is a chasing sprint with two events, the prologue between 10am and 12am in the west of the city, and the chase in the centre at 2pm.
Event Centre can be found here
Course Lengths
| Course | Classes | Prologue | Chase |
| --- | --- | --- | --- |
| A | Open Men | 3km | 4.3km |
| B | Open Women, Veteran Men | 2.5km | 3.2km |
| C | Veteran Women, Super Veteran Men, Junior Men, Junior Women | 2.1km | 2.6km |
| D | Super Veteran Women | 2.1km | 1.9km |
Junior is M/W18 and younger, Veteran is M/W40 and older, Super Veteran is M/W55 and older. Due to the nature of urban orienteering, the straight-line lengths given are significantly shorter than the shortest feasible route.
Please note: All Courses will cross numerous unmarshalled public roads, some of them quite busy, and competitors will be responsible for their own safety when crossing them. For this reason, all M/W16's and below should only enter with parental permission, and we do not recommend any M/W12's or under entering.
Map
Mapped at 1:5000 to ISOM 2007 by Oli Johnson. Updates by John Rocke and David Schorah
Entries
Entries via fabian4 at http://www.fabian4.co.uk/default.aspx?EventID=241
There will be very limited EOD if and only if Maps are available.
Travel
The assembly area is less than 5 minutes from Sheffield Station, and about 5 minutes walk from Castle Square Tram Stop, part of Sheffield's efficient Park and Ride system, described in detail here. We recommend using park and ride, however there are also many city centre car parks which will be open.
Officials
Planners: David Schorah and John Rocke
Organiser: Robert Farrington
With help from Sheffield City Council, Hallam Union, South Yorkshire Police.
Nopesport relies on user submitted articles. Got an inside scoop? An event review? Please submit it to us.

Nope News
Orienteering headlines from around the web:
World of O
Nopesport is supported by these advertisements