BJ is back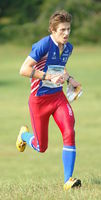 WorldofO Runners
David Brickhill-Jones has been kept out of competition by a series of injuries in recent years but made a comeback at the British Sprint Champs in early May, qualifying as a heat winner with only Graham Gristwood and Scott Fraser going faster, in other heats. In the final he could only manage 16th place, more than 2 minutes down on British Sprint Champion, Scott Fraser.
This was enough to convince the selectors to give BJ a shot at the World Cup Sprint race being held in conjunction with The Open Nordic Orienteering Championships in Salo, Finland, 10th June.
At the Finnish Champs BJ again qualified as a heat winner (=with former World Champion Jani Lakanen) but went on to back this up with another great race in the final. Nopesport wishes him well for Salo!
H21 : 3,4 km

 (Lähti: 52, Keskeytti: 0, Hylätty: 9)

  1.   Tero Föhr                   VeVe                     11.49             
  2.   Tuomas Tervo                RR                       11.50         +1  
  3.   Mats Haldin                 IFKGötebor               11.55         +6  
  4.   David Brickhill-Jones       Lynx                     12.00        +11  
  5.   Petteri Muukkonen           VeVe                     12.15        +26  
  6.   Vesa Taanila                IkNV                     12.18        +29  
  7.   Antti Anttonen              VaajTe                   12.26        +37  
  8.   Matti Kivelä                Delta                    12.34        +45  
  9.   Jarkko Huovila              TP                       12.43        +54  
 10.   Hannu Airila                KR                       12.46        +57  

Nopesport relies on user submitted articles. Got an inside scoop? An event review? Please submit it to us.

Nope News
Orienteering headlines from around the web:
World of O
Nopesport is supported by these advertisements