Exciting Developments in the Durham Dales for iROC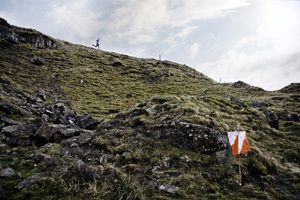 Orienteering will play a key role at iROC. Photo © iROC Ltd / Ryan Edy
The organisers held a press launch last week at the race venue to officially launch the event to the local media. On hand was fell runner and orienteer Phil Winskill who demonstrated how the unique former quarried terrain can be used for orienteering before leaving the assembled journalists awed with a powerful display of up-hill running between the event centre and upper quarry; the journalists had placed bets on how quickly they thought he'd be able to do it… they were all wrong! Next up was Matt Brown, a graphic designer with inov-8 and mountain biker. He stormed down the 'Wall of Death' in seconds on his full carbon MTB to a crescendo of cameras clicks. Both demonstrations were held on parts of the fell running and mountain courses that will actually be used for the event.
iROC™ Race Concept Explained
Shane Ohly, the iROC™ Race Director, explains the concept behind the new adventure racing format at iROC™:

"We wanted to organise a series of different races across different disciplines that include fell running, mountain biking and orienteering. Each individual races is being designed as though it were a standalone race; the idea being that if you turned up and competed in just one race, you'd be impressed with the format, organisation and experience of that race - to be honest, I expect most competitors will want to do all 6 races though!

What really makes iROC™ an adventure race is the close succession of each of these 6 individual races. Of course, the different skills sets required for each discipline mean that only a true all-rounder will be capable of wining outright. This new adventure racing format will be challenging and action packed for the competitors but also very visual for spectators as each of the races starts, loops though and finished at the event centre.

Finally, to make the event fun and sociable there will be a late bar on both the Friday and Saturday night and some live music on the Saturday evening. We really want each competitor to have a great time out on the hill and a great time catching up with their friends afterwards."

New Sponsors: British Orienteering, Silva & MBR
With a nod to the orienteering flavour of iROC™ British Orienteering have come on board to support the event. iROC™ incorporates two orienteering races, the first of which is very special… Each competitor is randomly issued with a sealed map as they enter the start pen, with their own course detailed on that map. Every course will loop back through the event centre four times. Theoretically, as there are four different loops that can be run in either direction (clockwise/anticlockwise) and in any order there are 384 different course combinations! The great thing about this race is that ultimately everyone ends up running an identical distance and locating the same checkpoints but with the mass start and multiple loops it will be intense! Also, on board to support iROC™ are Silva who are providing all the checkpoint kites and entering a Silva team.
Finally, joining the all star cast of companies that are supporting iROC™ is MBR, Britain's best mountain biking magazine with a motto that could have been iROC's™ - just get out and ride! MBR's support for iROC™ comes as the MTB race format is finalised with the Night MTB Time Trial start sequence confirmed; the slowest competitors, after the first races, start first and the fastest competitors start last. Competitors will be starting in blocks racing against competitors on near identical scores so every second will count. The organisers are also able to confirm that they have ordered 10km of reflective barrier tape for marking the night race courses!
About the iROC™
iROC™ will take place on the 18th & 19th of April 2009 and is set to present an innovative and exciting adventure racing weekend, taking place in an Area of Outstanding Natural Beauty in the Durham Dales, and featuring six different races that will include mountain biking, running and orienteering. Points will be awarded for places and there will be a £2,000 prize pot for the overall winners across all six races!
Uniquely, all but one of the races will have a mass start and will pass back through the event centre at least once before finishing. This will ensure that iROC™ offers the best adventure race spectating ever seen in the UK. Each race will be between one and four hours long. They will be as hard as you make them… intense, or just challenging experiences that will contrast hugely with the relaxed, chilled-out atmosphere of the event centre.
There will also be six mini races that will share the start and excitement of the main races, but they will be much shorter and designed for maximum fun and ideal for your friends and family, who may wish to do more than just spectate! The social focus for the weekend will be the Saturday night activities, which will include three night races (bring your headtorch!), live music and a late bar.
.
Nopesport iROC™ Competition
We've teamed up with iROC to offer readers the chance to win an entry to the weekend, worth £70, which includes all six races, camping, parking and access to the Saturday night entertainment.
All readers need to do is visit this thread in the forum, and give their answers to the following two questions:
Question 1: Complete the sentence: "I can't wait to compete at iROC because…."
Question 2: Guess the number of 'pits' on the new orienteering map for the area.
For more information on the event, which we'll hopefully see you on the startline of, click here to visit the event website: www.iroc-race.com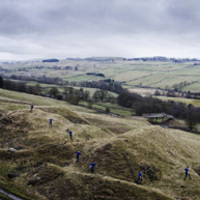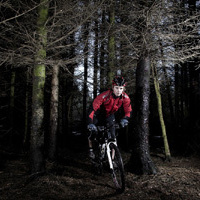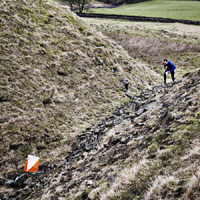 Nopesport relies on user submitted articles. Got an inside scoop? An event review? Please submit it to us.

Nope News
Orienteering headlines from around the web:
World of O
Nopesport is supported by these advertisements