"The Orienteering Adventure" is on-line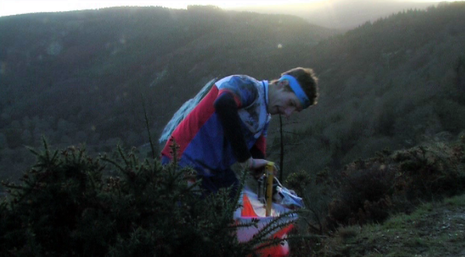 Ondrej Piják in "The Orienteering Adventure"
Finn van Gelderen, David Healy and Ondrej Pijak's film featuring Irish elites running in Wicklow is now on-line.  It has animated route gadget, a fantastic score and great running action. Watch the film by following this link: www.finnvangelderen.com/O-film/

The Orienteering Adventure came about because David Healy asked me to give him a hand making a film for the wee adventure film festival that is held in Dublin.  It was shot in one cold day in december 2007.  Tips I would give to aspiring o-film makers is the following:  Use a tripod, tell a story, make it engaging for an audience that is not only orienteers, but people who want to learn about the sport.  We shot on mini-dv with a decent camera and cut with final cut pro.  The editing process took a long time.  The animation was done by a very talented flash animator by the name of Loredana Fioretti to mine and Davids specification. We chose caricatures of the runners to make the animated version of what is essentially route gadget interesting.  We shot in 16:9 as opposed to 4:3 as that is the television standard.  David composed a score which happened after the film was cut, he even played instruments in sync with the picture that I recorded in a hired studio.  We pulled a lot of favors and the film was properly mixed and sound edited.  The film had the production parameters and methods of a drama and was very much worked out in advance....

If anyone has any comments or questions you can email me at finn@finnvangelderen.com
If you want to see more orienteering stuff check out my blog at:
adventuresinfilm-making.blogspot.com/
Nopesport relies on user submitted articles. Got an inside scoop? An event review? Please submit it to us.

Nope News
Orienteering headlines from around the web:
World of O
Nopesport is supported by these advertisements